What started out as a nice night for football turned into a lightning delayed after midnight finish as the Farwell Steers scored a 35-23 opening night win.
Plenty of fans were happy with free hamburgers and fries provided by Cargill and the Noon Lions Club before the game.
Sophomore quarterback Marco Monreal starting his first varsity game, rushed 9 times for 35 yards and completed 9 of 20 passes for 105 yards and two interceptions, one of which was run back for a Farwell touchdown. Monreal scored a touchdown on a 19-yard run.
Running back Salvador Santiago piled up 87 yards on 5 carries. Julius Orozco was 5 for 56 yards, Luis Trejo was 8 for 21 yards, and Sergio Flores carried 3 times for 11 yards and a touchdown.
Sophomore wide receiver Jonathan Hernandez led in receiving with 6 catches for 70 yards. He also punted 4 times for 174 yards, a 43.5 average. The Chiefs had a total of 315 offensive yards and 15 first downs on 51 offensive plays. Next up is Booker Saturday Sep 3 in Pampa at 1:30 p.m.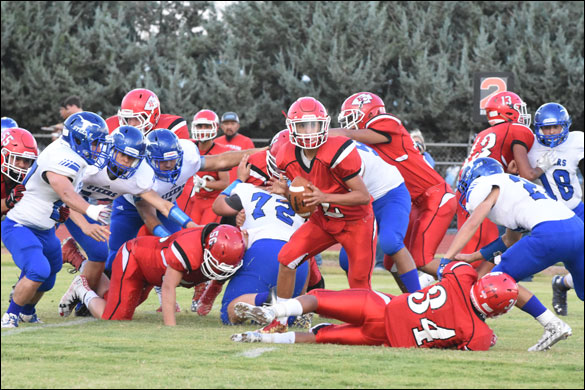 ron carr photo
Chieftain sophomore Marco Monreal (2) made his first varsity start in Friday night's season opener vs. Farwell. He scored in the 4th quarter on a 20-yard run but the Chieftains lost the lightning delayed game 35-13. A lightning delay was called near the half. Play resumed at 11:00 p.m. but there was another lighting delay. The game ended around 12:30 a.m. The Chieftains travel to Pampa Saturday September 3 to take on the Booker Kiowas. Game time is 1:30 p.m.