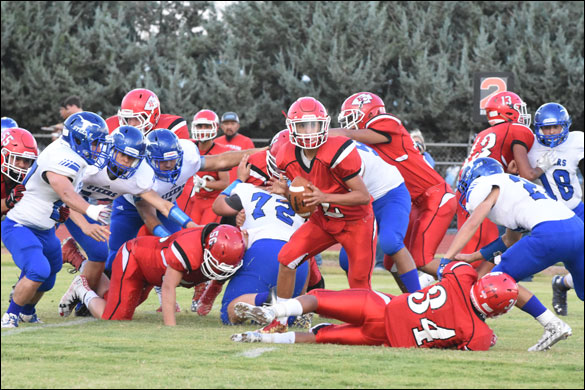 ron carr photo
Chieftain sophomore Marco Monreal (2) made his first varsity start in Friday night's season opener vs. Farwell. He scored in the 4th quarter on a 20-yard run but the Chieftains lost the lightning delayed game 35-13. A lightning delay was called near the half. Play resumed at 11:00 p.m. but there was another lighting delay. The game ended around 12:30 a.m. The Chieftains travel to Pampa Saturday September 3 to take on the Booker Kiowas. Game time is 1:30 p.m.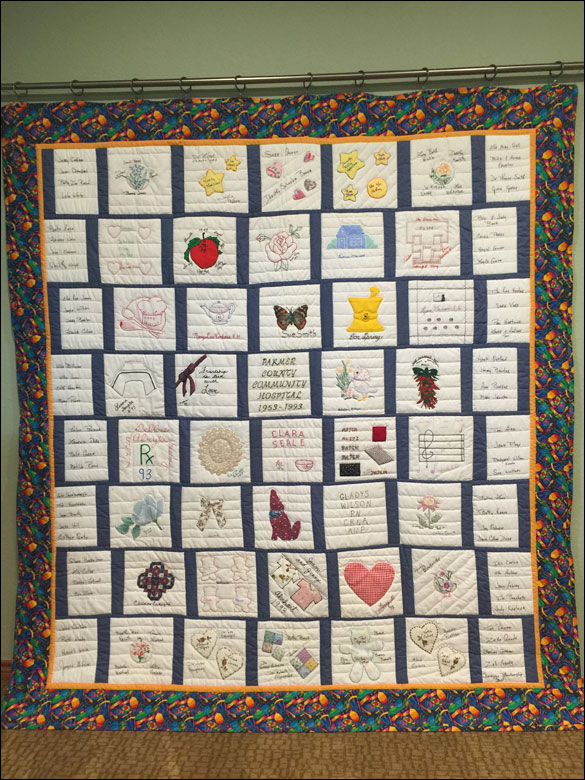 courtesy photo
One of the quilts that will be displayed at the Maize Days Quilt Show on September 17 at the Depot is "Tied with Love". This friendship quilt was pieced and quilted by Dorothy Blankenship after retiring from Parmer County Community Hospital in 1991. The names represent the people associated with the hospital from 1953 thru 1993. Come out and see the names of people you will recognize. A few of the names include Iola White, Doris White, Sara Owens, Dorothy Schueler Bauer, Dorothy "Kelly" Harrelson, Ruth Terry, Ora Mae Anthony, Lucy Beth Hinkle, Dr Paul Spring, June Spring, Dr Lee Spring, Dr Lee Cranfill, Dr Robert Alexander, June Spring, Joyce Wilkins, Martha Mae Pruett, Tommie Mercer, Betty Reeve, Clara Seale, Sue Smith, Joyce Hill, Judy Koelzer, Lynn Nelson, Gladys Wilson, Joy Osborn, Matilda Baca, Mary Lou Venhaus plus many many more. For more information, contact Kathy Rector at (806) 577-6130.
Official weather guy John Gurley has scrambled to keep up with rain reports since last Friday. He reported .45" at his house Friday with 1.75" west at 10 Mile Corner. Saturday was another .30" and Monday evening another .16" for a total in August of 2.65". Doesn't count the rain Tuesday and Wednesday. We'll get that report later.
*****
The football contest starts this week. Many thanks to our sponsors whose participation makes the contest possible. It will run 10 weeks and we look forward to some good competition. (more...)
What started out as a nice night for football turned into a lightning delayed after midnight finish as the Farwell Steers scored a 35-23 opening night win.
Plenty of fans were happy with free hamburgers and fries provided by Cargill and the Noon Lions Club before the game. (more...)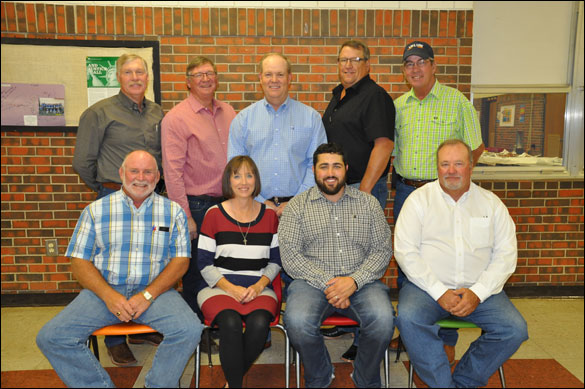 dana jameson photo
The Friona Farmers Co-Op Gin held its annual meeting Monday evening with a couple of new official faces. Back row, l-r, board chairman Mitchell Wiseman, Russell Harkins, Ricky Barnett, John Jarecki, and Raymond Hamilton. Front, l-r, Cris Ingram, new gin secretary/bookkeeper Deon Hunt, new gin manager Duncan Welch, and Davy Carthel.