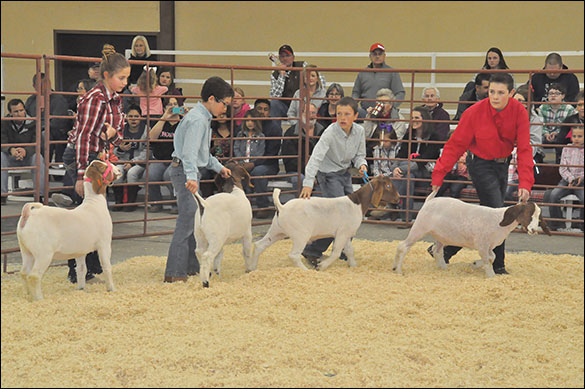 dana jameson photo
Showing goats Sunday at the Friona Livestock Show were, l-r, AJ London, Dieter Ally, Stef Ally and Anthony Abarca. London took first place, Abarca second place, Dieter third place and Stef fourth place. The showman will be in action again today at the Parmer County Livestock Show at the Friona Community Center.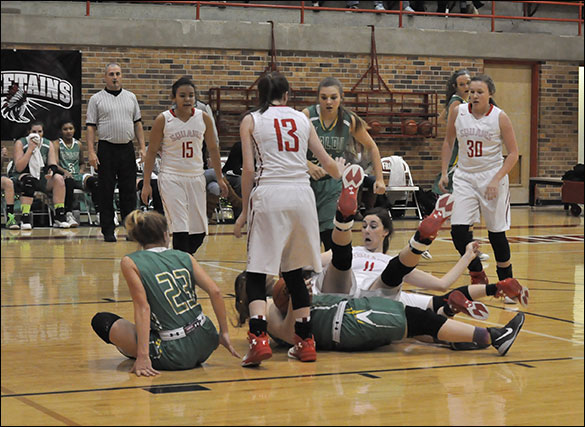 dana jameson photo
Kim DeWit (11), center, took a "feet over head" fall Tuesday night against the Idalou Lady Wildcats. Looking on are Jaci Trevino (15), Emma Rector (13) and Bailey Pope (30).
Official weather guru John Gurley said the weekend snow was .75", 1.27 of moisture. The low temp was only 24 and the high all weekend was 36. We received another .07 Tuesday night. For the month so far 1.53".
Xcel Energy reports that since Sunday they have replaced 170 poles plus 285 cross arms in the Pampa, Perryton, Borger district. They have identified another 260 poles and 585 cross arms that will need to be replaced. There were 870 employees including staff involved in the restoration of power. As of Tuesday, all the power up there was still not restored. Fortunately, our area escaped power outages. Many thanks to the power company employees who worked in terrible conditions to get power back on. (more...)
Seventy-six animals shown at local show
The 2017 Friona Livestock Show is now in the history books as a success. Seventy-six goats, sheep and swine were shown in twenty-two classes as rain and sleet fell outside the Friona Community Center on Sunday afternoon.
The show began at 1:30 p.m. with the first class of sheep being judged by event judge Brandon Freel. Freel is the Agriculture teacher at Denver City. (more...)
St. Ann's German Sausage Dinner
St. Ann's Catholic Church of Bovina will host their annual German Sausage Dinner on Sunday, January 29, 2017 from 11:30 a.m. to 2 p.m. at St. Ann's Parish Hall on 3rd Street in Bovina.
They will be serving homemade German sausage, creamed potatoes & gravy, green beans, homemade sauerkraut, cranberry sauce, relish plate, homemade bread, homemade desserts, tea or coffee.
Donations will be $12 for adults and $6 for children under 6-years-old. Takeout plates will be available at no additional charge. Sausage will be available to purchase the day of the dinner or by contacting any St. Ann's member prior to the dinner.