Obituary
Leon Louis Schilling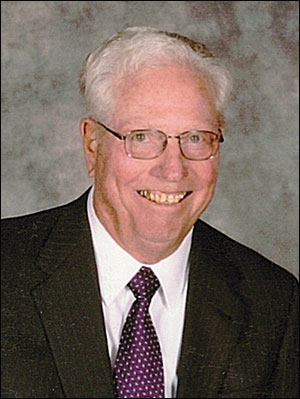 Leon Louis Schilling, 84, of Bovina, passed from this life on Thursday, November 2, 2017 surrounded by family in Bovina. A Mass of Christian Burial services were held on Saturday, November 4, 2017 at St. Ann's Catholic Church in Bovina, with Rev. Ken Keller of Nazareth as Celebrant. Burial followed in the Bovina Cemetery by Blackwell-Mullins Funeral Home of Friona.
Leon was born Sept 7, 1933 in Slaton, Texas, to Herman and Mary Schilling. He grew up with his eleven siblings on the family farm. This is where Leon learned the value of hard work and discovered his passion for farming. By the time Leon was 12 years old, he was farming full-time, alongside his father. In 1953, at the age of 20, Leon was drafted and served in the army as a radar operator in the Korean War until 1955. During this time, Leon proved his loyalty to his country and he later declared, "After all, if I get to live in this great, free country, protecting it was the least I could do." During his service, Leon made lifelong memories and earned himself the nickname "Big Leo." Standing broad and strong at 6'4, Leon "carried a big stick" and was respected for his size, stature, and all-encompassing wisdom that prevented even the bravest of men from disrespecting him or his allies.
In 1957, Leon married the love of his life, Martha Nell Decker, and moved to Bovina, Texas where he began farming on his own and found his spiritual home at St. Ann's Catholic Church. Leon lived his life devoting his love to his wife, children, community, and church. During his adult life, Leon served on the Bovina School Board, assisted on the Co-Op elevator board, taught Bible School and acted as Council President of St. Ann's Catholic Church, and became a 4th degree Grand Knight through the Knights of Columbus organization.
Not only was Leon a great father to Terry, Karen, Lisa and Todd, but he also became an incredible grandfather to Cody and Zachary Schilling, Tara Kendrick, Cory Daniel and Kelsey Schultz, Olivia, Gabrielle, Mallory and Alexander Schilling. In addition, Leon was blessed with four great-grandchildren: Rylan and Reed Kendrick, Carson and Callyn Schilling. Among his favorite hobbies were attending his grandchildren's and great-grandchildren's events and sharing bits of wisdom such as the following:
"Lying to a cop to get out of a ticket may not always be sinful."
"Never let the truth get in the way of a good story."
"Being mad will never fix a frustrating situation, so you may as well keep a good attitude."
Leon retired from his farming career in 2005 at the age of 72. In his late years, Leon enjoyed drinking coffee with close community friends, and he took pleasure in family gatherings and visits from his big, loving family. Until his last days, Leon loved driving around admiring the family farm, which was left in the capable hands of Terry, Todd, and Zac. Leon was always ready and willing to give helpful farm advice or provide rides around the farms during busy seasons.
Surviving are his wife, Martha; the Terry Schilling family, including Terry, Sabina, Cody, Matthew, Tara, Rylan, Reed, Zac, Wendy, Carson, and Callyn; the Karen Daniel family, including Glen, Karen, Cory, Jordan and Kelsey; the Lisa Schilling family, including Lisa and Juli Ward and the Todd Schilling family, including Todd, Lisa, Olivia, Gabrielle, Mallory, and Alexander Schilling.
Leon was known for his ever-present smile and his positive demeanor that led him to be optimistic until his last day. Leon never made a habit of complaining about his condition, often stating "I've had worse days," even when he was laid up in the hospital. The family of Leon asks that the community honor his memory by following his example by sharing a genuine smile and a happy, faithful heart with those around them. Although Leon can never be replaced, he will be remembered forever, and his legacy will live on through every life that he touched. While the town of Bovina may seem a bit dimmer without Leon's radiant grin, we know that he has inspired enough smiles from his friends, family, and the community to brighten this world until the day everyone is able to experience his immutable light firsthand. I think everyone will agree that the heavens are sure to shine a little bit brighter now with Leon there.
You may send condolences and sign the online register book at www.blackwellmullins.com.
Edd Url Luttrell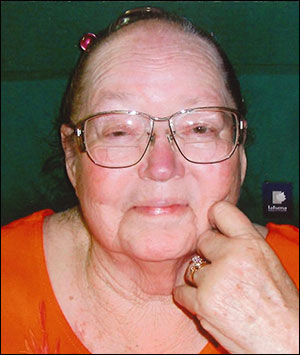 Services for Edd Url Luttrell were held Saturday, November 4, 2017, at 2 p.m., at the United Methodist Church, in Wheeler, TX. under the direction of Robertson Funeral Directors of Wheeler.
Edd Url Luttrell's story begins in Maryville, Kansas in 1900, where her father, Everett Walter Talbot was born. Next, her mother, Vivian Irene Pope, was born in 1910 in Arapaho, Oklahoma. Her parents were married in Clovis, New Mexico, on April 5, 1929 and welcomed their one daughter, Edd Url Luttrell, into the world on December 2, 1930. Edd Url went on to graduate from Friona High School and study vocal music at Eastern New Mexico University. The next chapter for Edd Url began when she married her husband, Dan Luttrell, in Friona, Texas, on September 10, 1950.
After they were wed, Edd Url lived with her parents while Dan served in the Korean war. In 1952, they welcomed their oldest son, Gary Scott, on February 24. Following the war, they lived in Friona, Texas, farming and trucking with family. On March 3, 1955, they welcomed their oldest daughter, Dana Url. In the mid 50's they moved to Coyanosa, Texas, to continue their farming endeavors. Their third child, Tamara Susan, was born on October 20, 1957. The Luttrell family continued to grow and farm. On August 3, 1959, Darryl Talbot was added to their family. In 1961, they found out they were expecting their 5th child and in October of that same year they moved to Wheeler, Texas, after her father-in-law was killed in a truck wreck in Hammon, Oklahoma. The Luttrell family made Wheeler their home and where they ran a trucking business. On July 2, 1962, their youngest son, Kevin Lee, was born. Edd Url's home was warm and welcoming to all. While she was raising her children, she supported all of them in their school activities, 4-H, FFA, and church activities. In 1971, the Luttrell family sold their trucking company and moved to Elk City, Oklahoma. In 1974, Edd Url began her 18-year long career for JC Penney. She continued to be active with the local historic society, Red Carpet Community Theater, and her family's functions. In 1992, Edd Url retired to pursue her career as a full time Granny where she enjoyed all of her grandchildren and great-grandchildren. Granny taught them all too always be the first to arrive and be the last to leave. She also taught them to be respectful and courteous to all!
Granny always loved being with her family and capturing every moment on film. She enjoyed having adventures and traveling all over the country. She also enjoyed singing in multiple church choirs throughout the years. No matter where she was, Granny continued to be active in her family and social activities. Granny and her side-kick, Timothy, spent many hours together working cows. Granny always cooked huge meals and made sure there was plenty of food for all. Granny never met a stranger and was always willing to help others. Later in the years, she enjoyed watching old movies while singing along. Granny was a generous, gentle, and kind spirited woman. "Our Granny was the most self-sacrificing woman in all of our lives."- Luttrell Family.
She is preceded by her parents; Vivian and Everett Talbot; her husband, Dan Luttrell; one grandchild, Danny Joe Muller.
She is survived by her five children, Scott and Kay Luttrell of Briscoe, Texas; Dana and Joe Muller of Bryan, Texas; Tammy Andris of Wheeler, Texas; Darryl Luttrell and Ralph Jones of Ft. Worth, Texas; and Kevin Luttrell of Elk City, Oklahoma. She is also survived by her 10 grandchildren: Brandi Simmons of Wheeler, Texas; Susie Umsted of Elk City, Oklahoma; Jennifer and Mark Gumaer of Idalou, Texas; Joshua and Naomi Muller of College Station, Texas; Jacob and Mandi Muller of El Campo, Texas; Jason and Chelsea Muller of Livingston, Texas; Dan Andris of Elk City; Aaron and Michelle Waters of Wheeler, Texas; Timothy Andris of Wheeler, Texas; Heather Martin of Sayre, Oklahoma. She is then survived by her 21 great-grandchildren. Lastly, she is survived by a host of family and special friends: Jerry Bob and Teresa Watts, Janette Rainey, Mickey and Patty Morris, Judy Kirk, and John Pitman.
In lieu of flowers, the family suggests that memorials be sent to the Wheeler United Methodist Church, in Wheeler, Texas, 704 Main St, Wheeler, TX 79096, or your favorite charity.
The family of Edd Url Luttrell would like to give a special thank you to the home health service and the Parkview Hospital staff: Dr. Lavelle and Lisa Mahler.