Star Publisher passes away after battle with cancer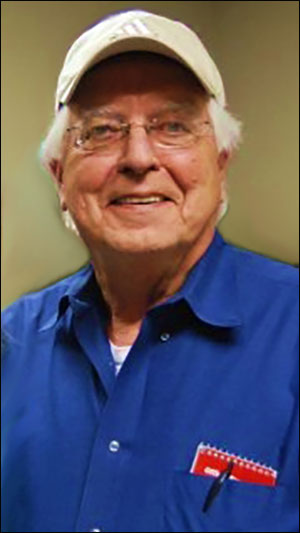 Longtime Publisher and Editor Ron Carr, 78, lost his battle with cancer and passed from this earth on Monday, November 6, 2017.
Ron joined the Friona Star the same day that the June 2, 1995 tornado wrecked havoc across Friona and the area. Earlier in the day, he had asked Bill Ellis "Does anything exciting ever happen here?" and Bill replied, "Not really. This time of year we have to search for news to have a headline story."
Ron moved with his family from Tulsa where they resided for six years. He previously owned and operated a travel agency in Dallas for over 20 years. The family's move to Friona was prompted because his mother and stepfather, Hannah and Harry Lookingbill lived here, as well as his brother Rick.
During his many years in the travel industry, he wrote articles for the travel trade, as well as training manuals, travel brochures, and newsletters.
The week of May 30, 2003, Ron officially became the third publisher since 1950, when he purchased the Friona Star and Bovina Blade from Bill and Carol Ellis. The Ellis' had owned the paper for 41 years before deciding to retire.
******
Celebration of Life services will be held 2:00 p.m. Sunday, November 12, 2017 at the Friona Cemetery in Friona with Jeff Procter, minister of the Sixth Street Church of Christ in Friona, officiating. Burial will follow in Friona Cemetery under the direction of Blackwell-Mullins Funeral Home of Friona.
Ron was born October 15, 1939 in Hillsboro, Texas to Ancel Estes and Hannah Eugenia Brown Carr. He graduated from Hillsboro High School and later entered into the United States National Guard.
Ron had a very successful travel agency in Dallas, and worked for Braniff Airlines. But, one of his greatest business achievements was when he purchased the Friona Star Newspaper from the Ellis family. As owner and publisher of the Friona Star, he has been a large part of many lives in Friona and Parmer County whether through the newspaper or the Friona Noon Lions Club. His dry wit, banter and love for Marilyn Monroe are legendary.
He is preceded in death by his parents and one sister, Kathye Chandler.
Ron is survived by two sons, Zachary Lucas Carr of Friona and Casey Elliott Carr and wife Jen of Dallas; three daughters, Megan Richelle Carr of Friona, Kirsten Carr McCurry and husband Jamey of Prosper and Candace Carr Holmes and husband Walt of Coppell; one sister, Gena Beth Rogers and husband Don of Burleson; one brother, Rick Lee Carr and wife Sherry of Friona; and five grandchildren.
A family visitation will be held Saturday, November 11, 2017 from 6:00 p.m. to 7:30 p.m. at the funeral home.
Memorials can be made to Parmer County Cancer Coalition, 906 Euclid Avenue, Friona, TX 79035.
You may send condolences and sign the online register book at www.blackwellmullins.com.