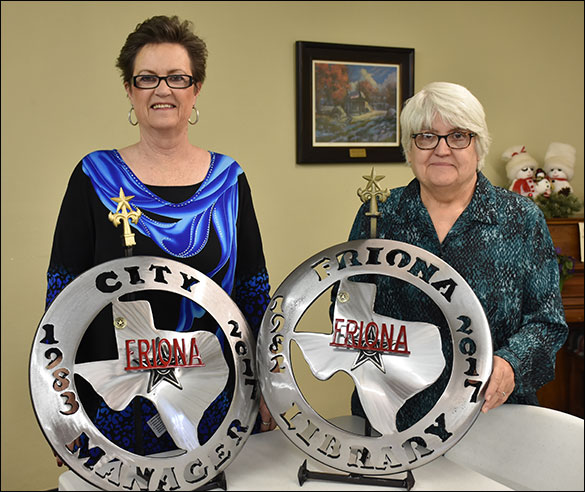 dana jameson photo
Retirees Honored...Friona City Manager Patricia Phipps, left, and Friona Public Library Director Darla Bracken were honored at a retirement luncheon Wednesday, December 13 at the Senior Citizen House.
Phipps has served the city for 34 years and Bracken has served the library for 35 years.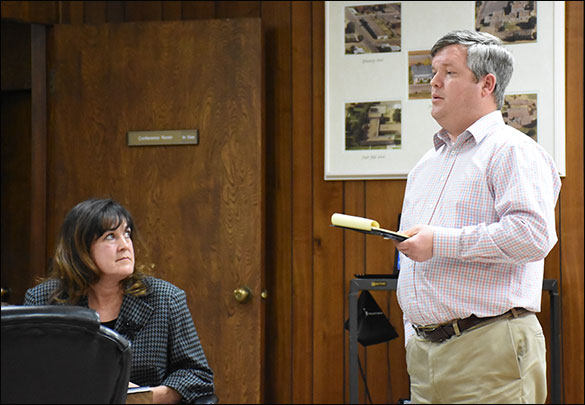 dana jameson photo
FISD Superintendent Dr. Pam Ray, left, looks on as Friona Elementary Principal Travis Victory reports on the activities at the Elementary school at the FISD Board of Trustees meeting Monday evening.
Friona was rocked this week with the tragic death of one of our beloved teachers and friends, Jenny Riethmayer. Jenny was loved by all who knew her and we will miss her terribly. Our thoughts and prayers go out to her family and friends. (more...)
Council sets wheels in motion to improve water system

The Friona City Council met in regular session on Monday, December 11, 2017 in Council Chambers with all members in attendance.
Retiring City Manager Patricia Phipps was presented a plaque for her 34 years of service to the City of Friona. Mayor Rick White made the presentation before the meeting began. (more...)

Commissioners approve purchase of front-end loader

The Parmer County Commissioners met in regular session on Monday, December 11 at the Parmer County Courthouse in the County Courtroom in Farwell to discuss a lengthy agenda.
Among the many subjects discussed was the approval of the purchase of a front-end loader for use in Precinct 3. (more...)

Friona ISD is financially secure according to annual audit
The Friona Independent School District Board of Trustees met in regular session on Monday, December 11 in the boardroom of the FISD Administration building.
Johnson and Sheldon delivered the 2016-107 Annual Audit report and proclaimed that FISD is financially secure. The board approved the report and results. (more...)