Obituaries
Vernell Cunningham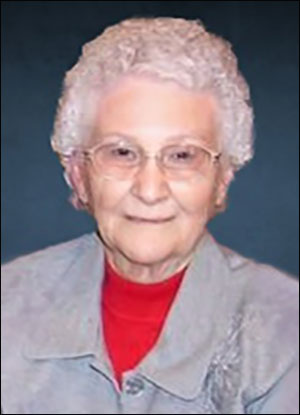 Vernell Cunningham, 92, of Friona, died December 11, 2017 in Amarillo. Celebration of Life services have been scheduled for 2:00 p.m. Thursday, December 14, 2017 at the Friona United Methodist Church in Friona with Rev. Skip Hodges, pastor, and Jenny O'Pry, officiating. Burial following in the Friona Cemetery by Blackwell-Mullins Funeral Home of Friona.
Vernell was born July 26, 1925 in Mountain Home, Arkansas to Clifford Alexander and Eula Anice Robertson Hogue. She married James Wesley Cunningham February 11, 1943 in Amarillo. She was a bank teller and cashier at the Friona State Bank for 26 1/2 years, and a member of the Friona United Methodist Church. She loved to quilt, travel and spend time with her family, but her passion was working in her yard and picking up pecans.
She is preceded in death by her parents; her husband; one brother, L.V. Hogue; and two sisters, Nora O'Brian and Nadine O'Brian.
Survivors include two sons, Joe Cunningham and wife Cheryl of Friona, and Dale Cunningham and wife Letha of Cushing, Texas; one daughter, Janice Jones of Twin Oaks, Ok.; three sisters, Vivia Lee Box of California, Jeanette Welch and husband Jim of Levelland, and Shirley Conley and husband Dick also of Levelland; seven grandchildren, 19 great-grandchildren and one great-great grandchild.
Memorials may be sent to: Friona United Methodist Church, 301 East 8th St., Friona, Texas 79035 or the Parmer County Cancer Coalition, 906 Euclid Ave., Friona, Texas 79035.
Send condolences to the family and sign the online register book at www.blackwellmullins.com.