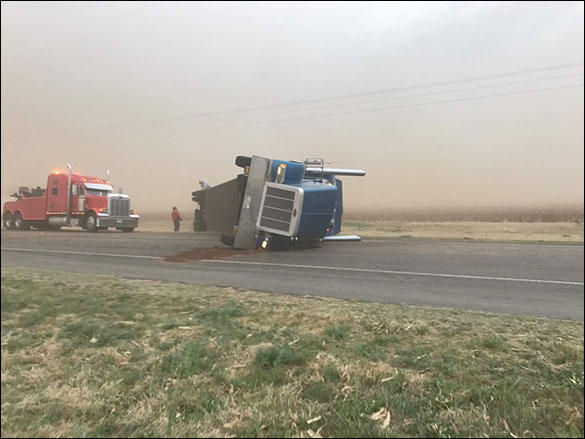 courtesy photos
High winds with an approaching thunderstorm last Thursday caused an unloaded cattle truck to turn over on US86 approximately three miles east of SH 214 around 7 p.m. The driver was uninjured. The roadway was partially blocked until K-3 Towing could get the truck upright.
Congratulations go out to Mark and Lisa Neill on celebrating their 35th wedding anniversary on March 26 and Ricky and Erin Barnett are celebrating 22 years of wedded bliss.
*****
Richard Samarron has been busy lately. He cleaned up the Library Garden and did a great job. The Friends of the Library invite everyone to notice the nice job Richard did with the garden behind the library. Apparently, it was a mess until he and his helper took away all the dead foliage that winter left behind. Thank you Richard! (more...)
3rd Annual Hi-Pro Feeds the Future benefit Saturday
The 3rd Annual Hi-Pro Feeds the Future Benefit and Dinner will kick off Saturday, April 1 at 6 p.m. at The Country Rose, 570 FM 1057, Summerfield. Tickets for the benefit will be available at the door. The proceeds will benefit the Parmer County Snack Pak 4 Kids program. Last year the benefit raised $74,000 to help feed hungry students in Parmer County. (more...)
Meet the Candidates forum Apr. 9
Friona High School Government/Economics class and their teacher Coach Darrel Ray are sponsoring a "Meet the Candidates" forum on Sunday, April 9 at 3 p.m. at the FHS Auditorium. FISD Board of Trustee candidates are Jaime Lewellen, Maria Monreal Garcia, Wade Schueler and Corbin Riethmayer. The audience will hear from each candidate then the moderators will ask them questions. The event will last one hour followed by refreshments where the public can speak to the candidates. The public is invited to attend this informative forum.
FISD announces early voting dates
Friona Independent School District will hold an election for two School Board Trustee seats on May 6. Those running for the two seats are Corbin Riethmayer, Maria Monreal Garcia, Wade Schueler and Jamie Lewellen. (more...)
Commissioners approve purchase of building
The Parmer County Commissioners Court met in regular session on Monday, March 27 at 10 a.m. in the County Courtroom at the Parmer County Courthouse in Farwell. (more...)