White, Mears named Woman & Man of the Year
As the brisk winds of West Texas blew across the dry country, guests attending the 61st Annual Friona Chamber of Commerce & Agriculture awards banquet were met with the soft strains of Hawaiian music and the very colorful décor at the Friona Community Center on Tuesday.
Incoming Chamber President Kathy Rector welcomed everyone to the banquet before introducing Boy Scout Troup 3056 who led the group in the Pledge of Allegiance. Members of the troop were Damian Moreno, Doreen West, Ayden Pena, Grayson Nix, Quirt Rogers and Dandri Graves with Scout Master Jason Endrizzi.
Sixth Street Church of Christ Pastor Jeff Procter gave the invocation.
Rector introduced the Friona City Council members and Mayor Rick White as well as the Chamber of Commerce members.
Kitty Gallman addressed the assembled group concerning the lack of available ambulances. She is part of a steering committee to raise funds for a new ambulance.
After a lovely meal featuring rib eye steaks, baked potatoes and strawberry shortcake, the crowd was entertained by the reigning Miss Friona Sydney Frye. She performed a high-energy rendition of "Boogie Woogie Bugle Boy" for the crowd.
Special thanks go to the Xcel crew for cooking the steaks and Five Star Bistro for dessert.
Cris Ingram performed the auctioneer duties for the live auction. Approximately 300 people attended the banquet and auctions.
Here are the 2017 Citizen Award recipients and their introductions as read at the banquet: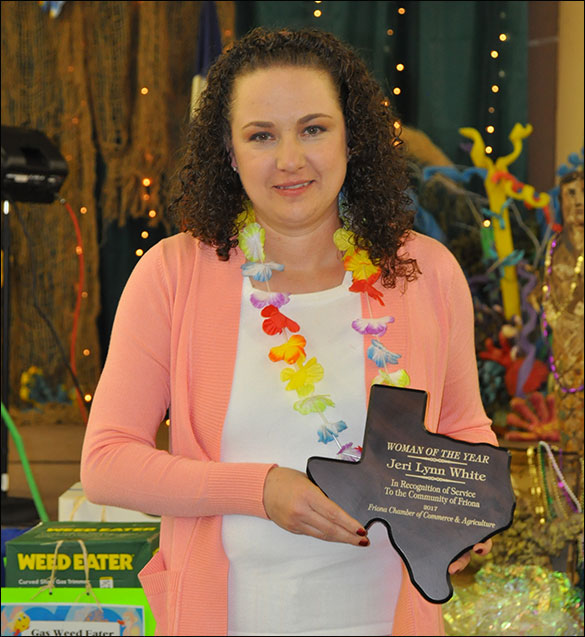 Woman of the Year
Jeri Lynn White
The Friona community and Parmer County has certainly been blessed by the energy and unselfishness of Jeri Lynn White. She pays attention to the welfare of her family and gives countless hours to volunteer activities.
She is a compassionate, caring woman who is always willing to help young people and children. She volunteers at her church, the Friona Library and Prairie Acres Nursing Home.
Jeri Lynn is above all a wonderful homemaker for her family. She does not leave it up to someone else to help her children with their activities. Not only that, she helps other young people and children in a thousand different ways. However, she does not stop there. She helps the elderly, her peers and those with special needs.
Certainly, Jeri Lynn deserves recognition for her contributions not only to the Friona Community but also to Parmer County and beyond.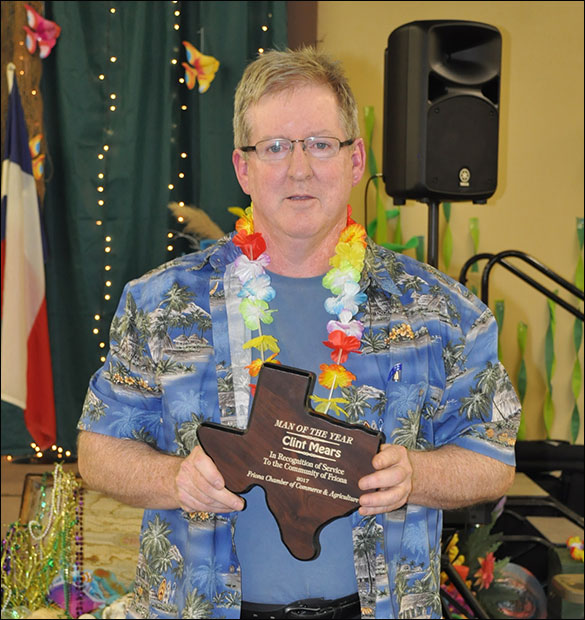 Man of the Year
Clint Mears
Clint Mears is truly an unselfish man who has spent his life giving his talents and time to the betterment of the Friona community. He is one of those quiet, pleasant, and gifted individuals whose presence at any event makes a positive and enjoyable difference.
He attended Friona schools and West Texas State University.
Clint volunteers throughout the community when needed, without a doubt he has been a long-standing and constant asset to Friona.
He is an active member of the Friona Noon Lions Club, which means he has cooked a train-load of those wonderful French fries at football games, Maize Days, Cheeseburger Festivals, sports banquets, Coffee Memorial Blood Drives, and the list goes on and on. He has also helped them with cooking hamburgers and placing flags out for holidays and the countless other community services they perform.
Educators of the Year
Beverly Ingram and Annette Frye
As we all know being an educator-teacher is one of the most rewarding, frustrating and hectic vocations in the world. Friona is fortunate to have the best teachers, who often come solely to teach, but remain because of their love for Friona and the children they serve.
Children who are discouraged are particularly needy, and teachers must exhibit deep compassion, positive attitude and ability to build confidence through encouragement. To give a child confidence that he or she can learn is the art of teaching. Teachers spend many hours testing the students to learn where assistance is most needed. The students fortunate enough to have these classes need one-on-one instruction.
All subjects are important, but reading is especially critical for student success. Friona has two teachers that have left their regular classrooms and banded together to teach struggling students. Annette Frye and Beverly Ingram are innovative and develop new ways of reaching these students and helping them and their families. Together they have 54 years of teaching experience.
Girl Student of the Year
Kendall Barnett
Kendall Barnett displays not just one, but numerous leadership roles. She is always willing to step up to challenges and sets her goal to win the gold in every endeavor whether academically, on an athletic team, in the community, or beyond. She has always been extremely involved in helping others.
She is quick to recognize a need and is always eager to do more than what is expected to make her world and the world of others a better place.
Kendall has set high moral values for her life. She is the kind of role model that we as a community appreciate and admire. She is just as kind, considerate, and friendly to adults, the elderly, and her peers, that is evidence of her compassion, kindness, and concern for others.
She is an accomplished athlete, musician, scholar, and loves to volunteer wherever she is needed. She is an example of the kind of young person who will always represent the Friona community well.
Boy Student of the Year
Mason Fleming
Mason Fleming has matured into a responsible Friona High School student. He has been very active while in high school. He has been part of the FHS Band and is a member of the National Honor Society and the National English Honor Society. He has helped with the high school musicals and the pageants sponsored by the Chamber of Commerce. Additionally, he has served his community by volunteering in many ways.
It is evident that Mason has not wasted his time while in high school. He is highly intelligent, driven, and dedicated to learning. He believes whole-heartedly in service to his community and beyond. He represents all that makes us proud at Friona High School. He has been involved in 4-H for several years. As of May 2017, he will have obtained an Associates Degree from South Plains College. No doubt, he will be equally driven and successful in his post-secondary endeavors.
Employee of the Year
Rhonda Wilkins
Rhonda Wilkins, Parmer Medical Center, has a way of bringing a calming influence into the hectic world of dealing with difficult situations. She calms the storms that face the customers, but goes beyond caring for the customer until they are on the road again.
She cares for the neighbors in this community and is respected for the good attitude, and knowledge of the industry, and holding educational events.
Rhonda understands the challenges that the customers face and the regulations that must be met. She has an upbeat, positive attitude even in difficult situations and a friendly demeanor.
Citizen of the Year
Connie Slagle
Connie Slagle grew up in Friona and attended West Texas State University. She is a retired school teacher with many other interests taking up a great deal of extra time. She is involved in the Parmer County Retired Teachers and Support Personnel and is affiliated with the Texas Retired Teachers Association. She publishes articles in the Friona Star and volunteers at school and church.
Many find Connie's writing encouraging and stimulating through her Facebook blog. She created interest in organizing safety efforts throughout the community, which have paid off tremendously.
Connie is know as the "Bookshop Lady" and has organized the Big Brothers Big Sisters BIGS program in Friona Elementary School.