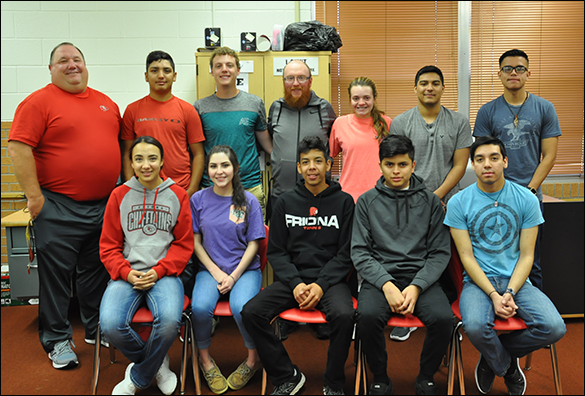 dana jameson photos
| | |
| --- | --- |
| Bryant Masse, above center rear, was the recipient of a prosthetic finger designed and printed by the students of Coach David Towner's Digital & Interactive Media class at FHS. The new finger, right, was printed on a 3-D printer. Class members are, back, l-r, Towner, Bryan Arzate, Jason Kelly, Taylor Stallings, Austin Mercado and Manuel Castaneda; front, l-r, Erika Grado, Verenice Mendoza, Fabian Ledezma-Gonzalez, Samuel Chihuahua, and Raul Silva. Below, Bryant shows the flexibility of the prosthesis. | |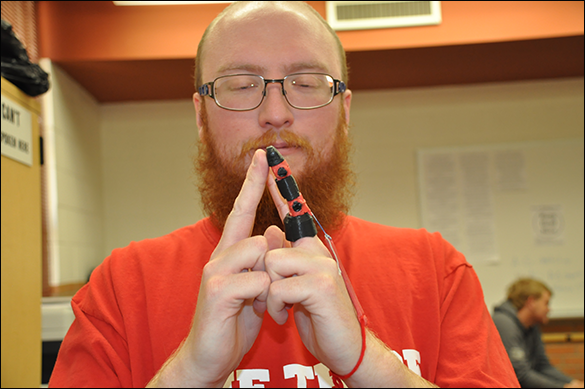 Calling all 2017-18 Sophomores, Juniors and Seniors, meet the organizers of the 2017 Miss Friona Pageant at the depot on Saturday, April 22 at noon. Bring your make-up bag and essentials for a fun time. No commitment at this time to sign up for Miss Friona. They will have a make-up specialist on hand for beauty tips. Lunch will be provided. For more information, contact the Chamber at (806)250-3491, Kathy Rector at (806)577-6130, Erika Carrillo at (806)400-6113. (more...)
FHS students design 3-D prosthetic finger for Masse
Technology at Friona High School has taken a giant leap forward in recent months with the designing and printing of a 3-D finger.
Almost a year ago, Bryant Masse, FHS ISS instructor, was firing a pistol when it misfired and severed his left middle finger below the second joint leaving him with just a nub.
During a conversation with his friend, Coach David Towner, Digital & Interactive Media instructor, not too long after the accident, Towner mentioned, "Wouldn't it be cool if we could print you a new finger?" (more...)
Friona Independent School District will hold an election for two School Board Trustee seats on May 6. Those running for the two seats are Corbin Riethmayer, Maria Monreal Garcia, Wade Schueler and Jamie Lewellen. (more...)
WTAMU's Espinoza named 2017 Truman Scholar
Reprinted with permission from the WTAMU News
West Texas A&M University student Jonathan Espinoza made history on Wednesday (April 12) when he officially became the first WTAMU student ever to receive a prestigious Harry S. Truman Scholarship.
With this accomplishment, which comes with a $30,000 scholarship for graduate school, Espinoza joins an elite group. Previous Truman Scholars include U. S. Supreme Court Justice Neil Gorsuch, University of California President Janet Napolitano, This Week host George Stephanopoulos, and numerous other notable individuals.Jonathan Espinoza (more...)