Obituary
Gene P. Martin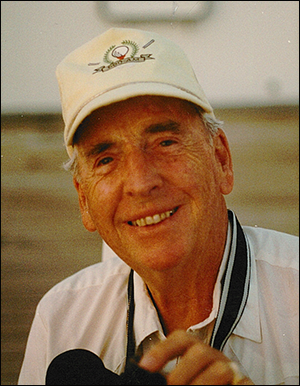 Gene P. Martin, 92, of Hereford, Texas, passed away on Thursday, April 13, 2017. Funeral services were held Monday, April 17, 2017 at Mendez and Mullins Family Funeral Home with Reverend Tony Neusch, St. Anthony's Catholic Church, Celebrant. Burial followed at West Park Cemetery. Arrangements by Mendez and Mullins Family Funeral Home.
Gene was born on May 14, 1924 in McKees Rocks, Pennsylvania, to Herman and Ruth (Piper) Martin. He married Nimfa Padua on July 23, 1991 in Horry County, South Carolina. Gene served proudly in the U. S. Army, he was honored with European African Middle Eastern Theatre Medal, with three Bronze Service Stars, a Purple Heart, and a Good Conduct Medal. Gene was injured while on duty and was Honorably Discharged as a disabled Veteran. Gene was a car salesman and owned a car dealership in Aliquippa, PA. He was a musician and sang in a band with his sister, he loved to play the piano, guitar and compose music and record his music, he also loved to play golf.
He was preceded in death by his parents, Herman and Ruth Martin; two brothers; and two sisters.
Gene is survived by his wife, Nimfa Martin of Hereford, Texas; one son, Douglas Martin and his wife, Suzanne of Aliquippa, PA; three stepsons, Francis Trias and his wife, Natasha, Karlos Trias, and Marc Trias all of Albuquerque, NM; three daughters, Cynthia Douglas and husband, David of Aliquippa, PA and Sharon Lewis and husband, Alan of Boiling Springs, SC, and Emy Martin of Hereford, Texas; eight grandchildren; and three great-grandchildren.
Memorials can be made to St. Jude Children's Research Hospital, 262 Danny Thomas Place, Memphis, Tennessee 38105.
To sign the register book online go to www.mendezandmullins.com.