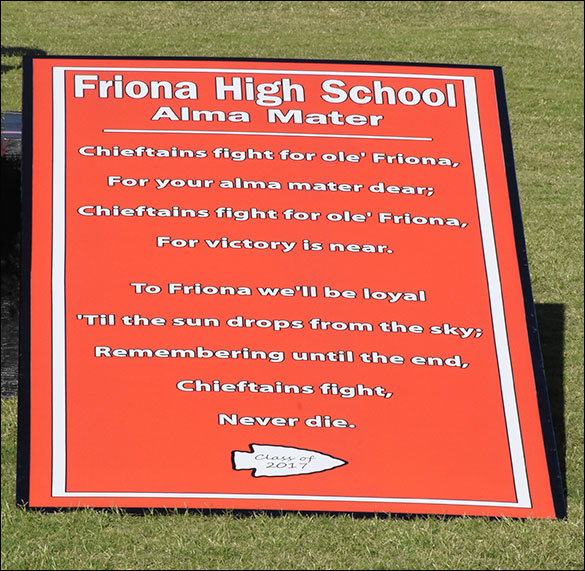 dana jameson photo
The Friona High School Class of 2017 gift to FHS was the Alma Mater wall hanging, above, that will hang in the gymnasium for all the visitor to view. The wall hanging was created and designed by Bobby Thompson and Thompson Ink.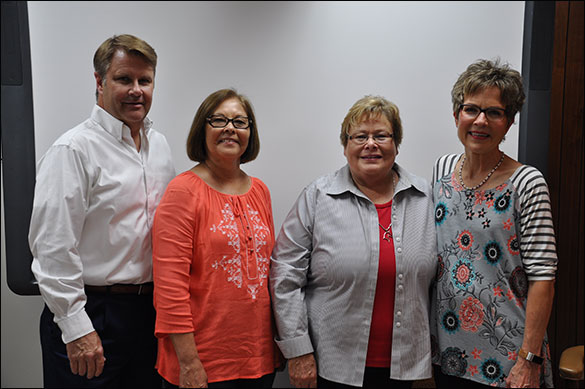 dana jameson photo
Mark Sundre, Minnie Ureste, Kathy Eppers and Kathy Terry were honored at a Retirement Reception held Wednesday, May 24 at the FISD Administration Building Board Room.

If you are looking for a reason not to cook lunch on Saturday, June 3, come by Milk House Market for the Friona Squaw Basketball Team Brisket Sandwich Fundraiser. It begins at 11 a.m. For $10, you get a brisket sandwich, chips, drink and a cookie. All the proceeds go to the Squaws basketball team.
*****
Daniel Jet Pena and Chris Rodriguez have been selected to play in the GWTBCA (Greater West Texas Baseball Coaches Association) All-Star Game on Saturday, June 24, 2017 at 2 p.m. at Hays Field on the campus of Lubbock Christian University. Way to go Daniel and Chris! (more...)
Bluebonnet Home Health and Hospice, the Alzheimer's Association, the Ellis family and the Friona Star are proud to present a 3-part series over the next three weeks for The Longest Day. (more...)
Friona Blood Drive to celebrate Dairy Month
The community of Friona and Coffee Memorial Blood Center will celebrate Dairy Month in a big way on Thursday, June 22 at Calvary Baptist Church from noon to 7 p.m. Every eligible donor who is present to donate will receive a Dairy Month themed t-shirt, a pint of milk, a cup of ice cream and a squeeze cow. Donors' names will be put in a drawing for a year supply of milk. (more...)
A fundraiser brisket sandwich meal for the Friona Squaws Basketball team is scheduled for Saturday, June 3 starting at 11 a.m. at Milk House Market. The meal includes: sandwich, chips, drink and a cookie for $10. All proceeds go the Squaws Varsity basketball team. Donations are welcome.