Obituary
Luann Hough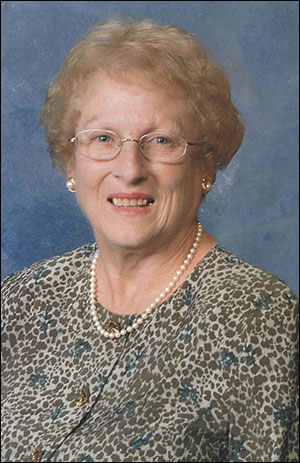 Graveside services for Luann Hough, 76, were held on Tuesday, May 30, 2017 at the Friona Cemetery. The funeral service followed at the First Baptist Church in Friona with Reverend Brett Hoyle, pastor, officiating. Services were under the personal supervision of Parkside Chapel Funeral Home. Mrs. Hough died and went to be with the Lord on Thursday, May 25, 2017.
Luann Hardesty was born on November 13, 1940 in Plainview, Texas to Wesley and Fayola Hardesty, and lived in Abernathy until they moved to Friona in 1944. Luann graduated from Friona High School in 1959.
Luann's father taught her the Bible from a young age. She knew the Bible inside and out and was a fabulous Bible teacher. She lost her mother when she was 15 years old and at that time decided to make sure she had fun every day because life was short. God told her after her mother's death that she was going to marry Charles Hough. They were married December 27, 1959. They had two children, Doris who was born in 1962 and David who was born in 1965.
Luann was a loving wife, mother and grandmother. She loved being a wife, mom, homemaker. Not only did she take care of her family, she also had the usual job description of every farm wife of driving tractors and trucks. Luann was always there when you needed her.
Luann was an active member of the First Baptist Church of Friona where she loved to sing in the choir and teaching Sunday school to all ages.
She soon became a grandmother to Ashley, Tyler and Truman. They were the light of her life. In her eyes, they could do no wrong and she spent all the time with them that she could. She loved to cook with the grandkids. They made lots of cookies, blueberry muffins, and popcorn balls.
Luann had a very special relationship with David's wife, Rene. Our family could not have survived without the loving care that Rene has given to all us since she and David married, and especially since the loss of Charles.
Luann was preceded in death by her parents and her husband, Charles. Survivors include her daughter, Doris of Ft. Worth; her son, David and wife Rene of Friona; her three grandchildren, Ashley, Tyler and Truman; and two sisters.
Luann will be deeply missed by her friends and family. As we are all grieving here, she is happily in heaven with the love of her life, and our Dad, Charles, who she has missed so much since he passed away in 2010.
The family asks that memorial donations (in lieu of flowers) be made to the First Baptist Church of Friona, 404 W 5th Street, Friona, Texas 79035.