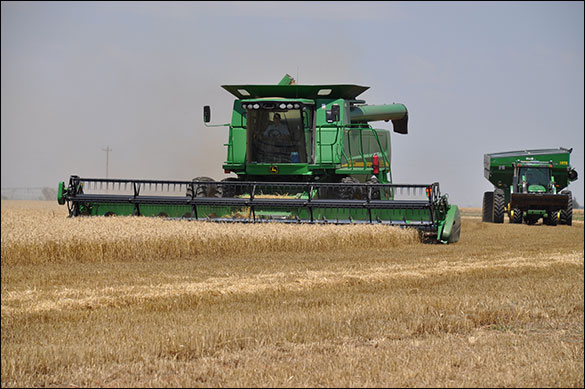 dana jameson photo
Wheat harvest is well underway in the area. Bobby Daniel was out on the combine Sunday afternoon cutting wheat eight miles south of Friona. He estimated that he was cutting 50 bushels an acre. He shrugged and said, "The Lord just gives it to you." Daniel is a Friona boy that moved away and has come back home. Farmers in the area are watching the weather forecast for any sign of rain and rushing to get the wheat crop harvested. Temperatures into the 100's are predicted with little or no rain in the foreseeable future.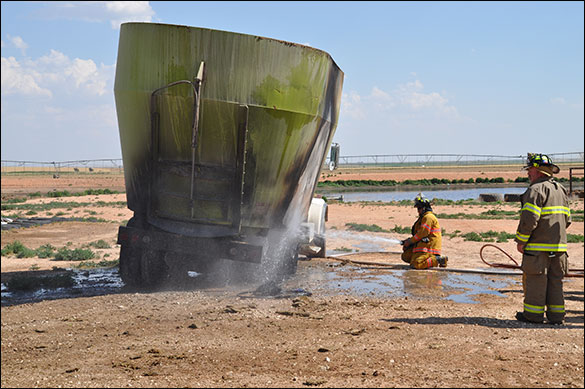 dana jameson photo
The Friona Volunteer Fire Department was called out to A-Tex Dairy late Monday afternoon to extinguish a feed truck fire. The cause of the fire was undetermined at this time. Above, Friona firefighter Wade Schueler douses the truck for good measure as Skip Hodges looks on. A-Tex Dairy owner Tom Alger said, "I am very much appreciative to the fire department and Daniel Wiseman for getting there so quick. Thank you!"

The 9th Annual Pudge Kendrick Memorial Golf Tournament is coming up July 29 & 30 at the John Pitman Golf Club in Hereford. This is a two-person scramble and the entry fee is $250 per team. The proceeds will go to the Parmer County Cancer Coalition and the Hereford Cancer Coalition. (more...)
Coffee Memorial Blood Center and the Friona Community will host a blood drive on Thursday, June 22, 2017 at Calvary Baptist Church Fellowship Hall, 1500 Cleveland, from noon to 7 p.m. (more...)
Council/Ambulance Committee ready grant application
The Friona City Council met in regular session on Monday, June 12, 2017 in the Council Chambers. (more...)

Board approves new phone system, discuss bond issue
The Friona Independent School District Board of Trustees met in regular session on Monday, June 12, 2017 at the FISD Administration Building boardroom. They discussed a lengthy agenda highlighted by reports from High Road Clean Energy Managing Director Monty Humble, representatives of WTRT and Synetra, and the FHS Junior Class officers. (more...)
The Parmer County Commissioners Court met in regular session on Monday, June 12 at the County Courthouse in Farwell to discuss a short agenda.
Monty Humble, High Road Clean Energy, LLC Managing Director, updated the commissioners on the current abatement and provisions for Mariah del Este. The commissioners took no action on the abatement at this time but will address the issue at the next meeting. (more...)