Obituary
Hugh Edward Moseley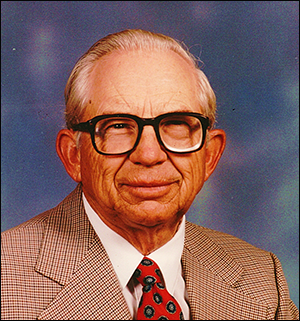 Hugh Edward Moseley, 90, of Canyon, TX, longtime former Parmer County resident, died Monday July 3, 2017 in Hereford. Graveside services with Masonic Rites will be held 10:30 a.m. Friday, July 7, 2017 at Sunset Terrace Cemetery in Farwell, TX with Rev. Skip Hodges , pastor of the Friona United Methodist Church, officiating. Burial following by Blackwell-Mullins Funeral Home of Friona.
Hugh was born on January 22, 1927 in Friona, TX to David and Eva Collier Moseley. He was the middle of three children.
After graduating Texas Tech University with a Bachelor's Degree in 1953, he was Parmer County Tax Assessor-Collector until he retired in 1989. Hugh married Wilma Louise Snider on April 30, 1962. She preceded him in death on October 23, 1997.
Hugh was an avid historian who did work for the Parmer County Historical Society. He was a member of the Friona Methodist Church. He served in the Merchant Marines and was honorably discharged. He became a member of the Masonic lodge in 1952 and was very active as a member, instructor and mentor.
Survivors include his son David Moseley and wife Cassie of Canyon, T; four grandchildren, Natasha Salazar of Lubbock, Sierra Moseley of Sparks, NV, Gentry Moseley of Bay City, TX, Addison Moseley of Canyon, TX; seven great-grandchildren, Emma Montgomery, Oaklee Land, AJ, Angel, Elliana, Esmeralda, and Kiki Salazar.
You may sign the online register book at www.blackwellmullins.com.