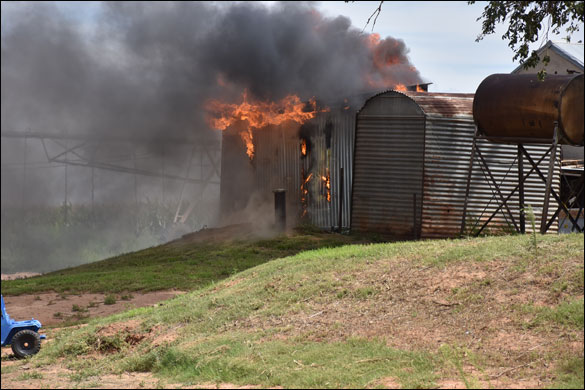 dana jameson photo
Friona Volunteer Firefighters were called to a watershed fire southeast of Hub Thursday afternoon. The fire was brought under control but the building was a loss. There were no injuries reported.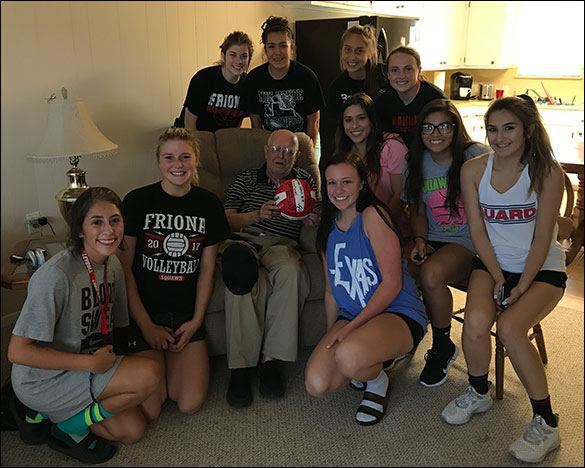 courtesy photo
The Friona Varsity Volleyball team surprised Friona Star Publisher Ron Carr by presenting him with a signed volleyball Thursday afternoon. "We are thankful for all the support he has given us. So we wanted to give something back to show our appreciation," said spokesperson Emma Rector. Pictured with Ron are, back row, l-r, Kenzie Hurst, Mariah Trevino, Vivianna Rivera and Emma Rector; front row, l-r, Rickie Castillo, Carly Drake, Bailey Pope, Erica Barrera, Josselyn Castillo and Megan Stone.

If you see Clyde Renner this week, wish him a Happy 80th Birthday. His birthday is Friday, August 18. Happy Birthday, Clyde!
*****
With school back in session, the Friona Police Department wishes to remind everyone of the following: (more...)
Trustees approve Ag farm improvements
The Friona Independent School District Board of Trustees met in regular session on Monday, August 14, 2017 to discuss a lengthy agenda, which included a discussion about the current tax rate, the FFA Ag farm, and the disbursement of Permanent School Funds.
After a length discussion the trustees proposed a tax rate of $1.04 per hundred. (more...)
Commissioners release FEMA funds for Precinct 1
The Parmer County Commissioners Court met in regular session Monday, August 14, 2017 at 10 a.m. on the County Courtroom of Parmer County Courthouse in Farwell. (more...)

Friona City Council tackles lengthy agenda
The Friona City Council met in regular session on Monday, August 14, 2017 at 6:30 p.m. in the Council Chambers. Council members considered a number of issues including the proposed 2017 tax rate, the search for a new city manager and the transfer of FEMA money for street repairs. (more...)