Obituary
James Von Edelmon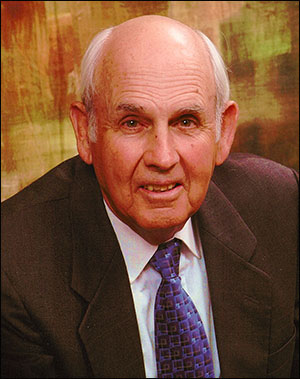 James Von Edelmon, 86, of Friona, TX, passed away on Saturday, August 12, 2017. Funeral services were held Tuesday, August 15, 2017 at the Union Congregational Church of Friona with Rev. Joe Schulte, pastor, officiating. Burial followed in the Friona Cemetery by Blackwell-Mullins Funeral Home of Friona.
Von was born on May 27, 1931 in Plainview, TX to W.L. (Preach) and Ruth Officer Edelmon. The family moved to Friona in 1938 and he attended Friona schools and farmed with his father until he graduated from Friona High School in 1948. He attended West Texas State University for 3 weeks, but his heart was in farming and decided to go home and continue farming. Later that fall he was accepted into the Naval ROTC program at the University of New Mexico and went on to graduate with a degree in Mechanical Engineering as a 2nd Lieutenant in the U.S. Navy.
In summer of 1957, while stationed in Hawaii, Von met the woman who would be his wife for 60 wonderful years, Nancy Louise Palmer. They were married November 23, 1957, in Houston, TX. Nancy lived with her parents while Von was stationed in Japan. Von and Nancy's first child, Lisa, was born in Houston in 1958.
In November 1958 at the completion of his Naval service, Von and Nancy moved to Dallas and he started his career as a mechanical engineer for Texas Instruments in Dallas, TX. While living in Dallas, he and Nancy welcomed the birth of three more children: Mark, Karen, and Brian. In 1966, he decided to change professions and moved with his family to Friona to farm with his father. He was an active member of the Union Congregational Church, the Lions Club for 50 years, and in the community of Friona.
Although he has not been actively involved for the last few years, he has maintained an active interest in his preferred occupation – farming and raising cattle. The one thing he enjoyed most was spending time with Nancy, his children and grandchildren. He was a dedicated family man his entire life.
He is preceded in death by his grandson, Cory Reed Stewart.
He is survived by his wife of 60 years, Nancy Edelmon of Friona: four children, Lisa Veggeberg and husband Neil of Amarillo, Mark Edelmon of Austin, Karen Burns and husband John of Enumclaw, WA., and Brian Edelmon and wife Gretchen of Austin; his sister, Jan McLeod and husband Bob, of Virginia; his beloved grandchildren, Eric, Amy, and Kevin Veggeberg, Sierra and Mariah Edelmon, Travis Stewart and Kendrick Burns, Graham and Meredith Edelmon; and great grandchildren, Jackson & Logan Stewart and Jane Veggeberg.
The Edelmon family will continue to support Cal Farley's Boys Ranch Foundation, P.O. Box 1890, Amarillo, Texas 79174-0001.