Two accidents on Hwy. 60 in two days
Emergency personnel were kept hopping Monday, August 28 and Tuesday, August 29 with two vehicle accidents on Highway 60 involving pickups and semis.
DPS, Parmer County Sheriff's Office, Friona Police Department, Friona EMS and Friona Volunteer Fire Department responded to a vehicle accident six miles west of Friona on Monday afternoon at approximately 3:15 p.m. to a major accident involving a C.R. England semi truck and trailer and a 2005 blue Dodge pickup.
The Jaws of Life had to be used to extract the driver of the pickup that collided with the rear of the semi-trailer. The driver was taken to Parmer Medical Center by Friona EMS. He was airlifted to Amarillo. His condition was unknown.
The driver of the semi was uninjured but shaken up by the accident.
Emergency crews responded to a report of a vehicle crash in the eastbound lane of Highway 60 approximately one mile east of Black around noon.
A red Ford F-150 was struck from behind by a semi and careened off the highway, landing next to the railroad tracks as a train was passing. The passengers' side of the pickup came into contact with train and caused considerable damage.
The driver of the pickup was transported to Parmer Medical Center after he was extracted from the pickup.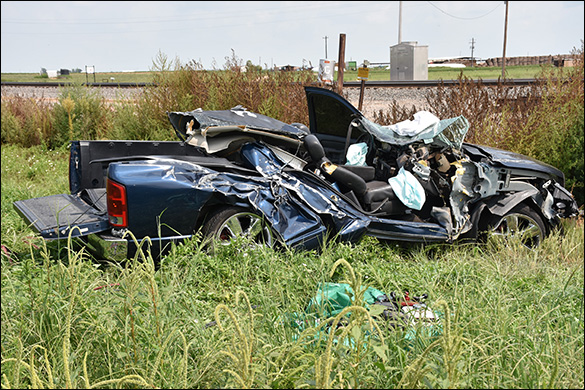 dana jameson photo
The crumpled remains of a blue Dodge pickup and metal scraps attached to the rear of a semi trailer were evidence of the non-fatal accident Monday afternoon on Hwy. 60. The driver of the pickup was airlifted to Amarillo.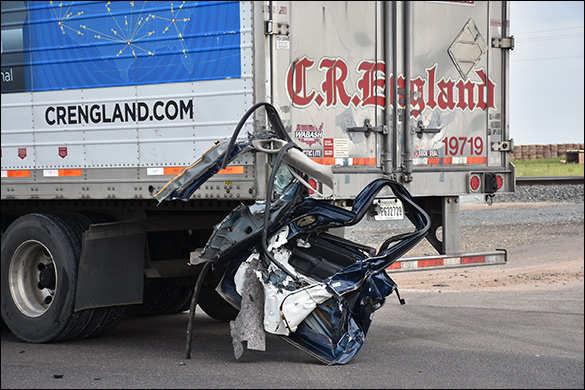 dana jameson photo
-------------------------------------------------------------------------------------------------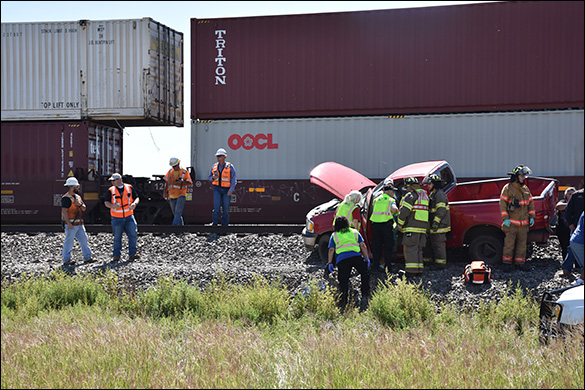 dana jameson photo
The driver of a red Ford F-150 narrowly missed tragedy as his pickup careened off Hwy. 60 after being struck from behind by a semi. Above, BNSF workers survey the scene as emergency crews extract the driver. Below, Friona Volunteer Fireman Justin Bridges inventories the pickup.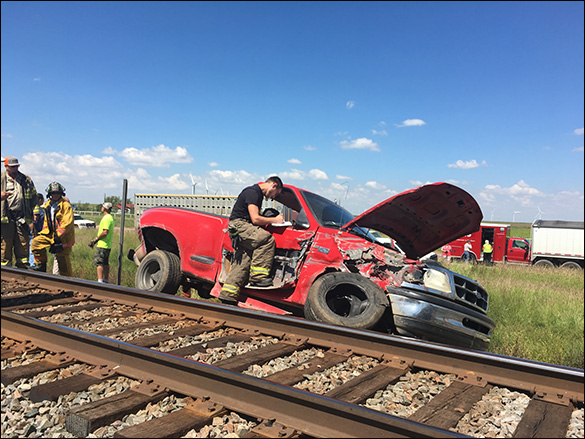 dana jameson photo