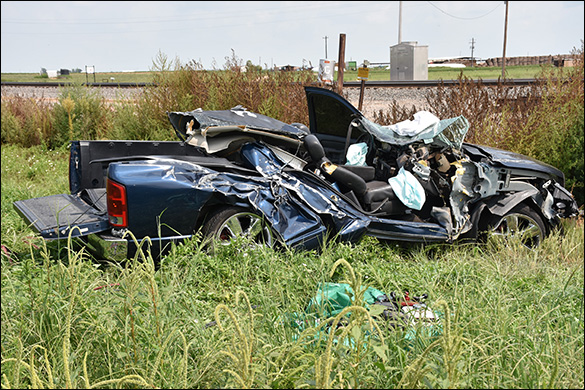 dana jameson photo
The crumpled remains of a blue Dodge pickup and metal scraps attached to the rear of a semi trailer were evidence of the non-fatal accident Monday afternoon on Hwy. 60. The driver of the pickup was airlifted to Amarillo.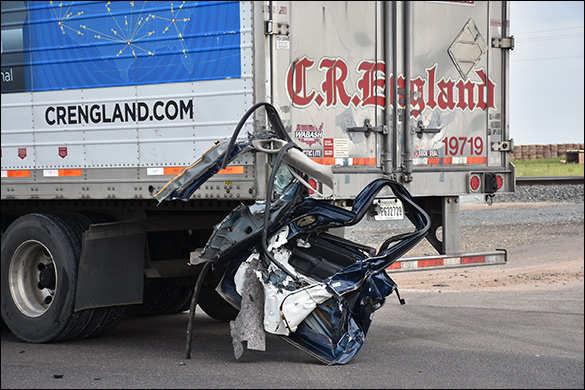 dana jameson photo
-------------------------------------------------------------------------------------------------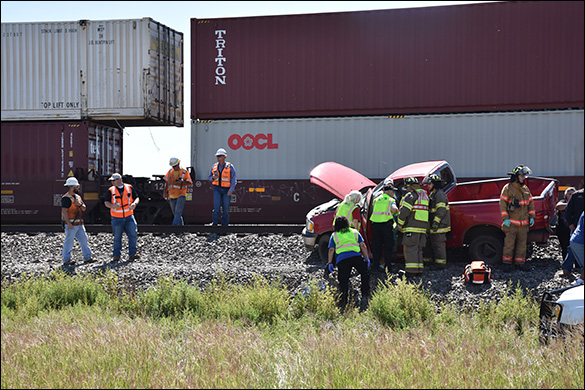 dana jameson photo
The driver of a red Ford F-150 narrowly missed tragedy as his pickup careened off Hwy. 60 after being struck from behind by a semi. Above, BNSF workers survey the scene as emergency crews extract the driver. Below, Friona Volunteer Fireman Justin Bridges inventories the pickup.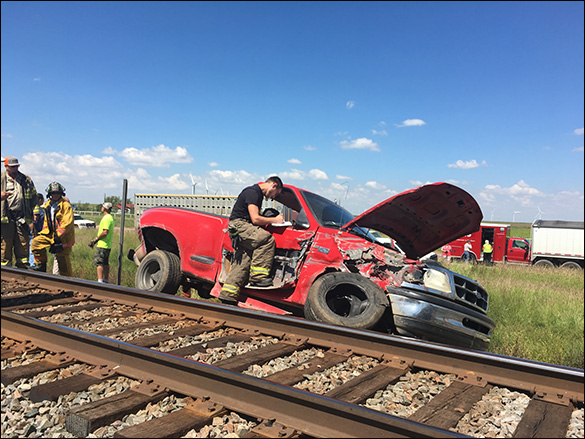 dana jameson photo

Do you like to play games? Then Friona Heritage Estates is the place to be on Tuesdays at 2 p.m. Heritage Estates is seeking members of the community to play games with the residents. If you need a ride call Connie Johnson at (806) 295-6044.
*****
Caregivers Coffee Break is this Friday, September 1 at 9:30 a.m. at the First National Bank Community Room. Caregivers are invited to enjoy donuts and coffee with Rhonda Sanders. (more...)
Ambulance fund receives AAF grant
The Action for an Ambulance team received word this week that the Amarillo Area Foundation has awarded a $25,000 grant toward the purchase of a new ambulance for the Friona EMS. The grant will make a significant addition to the already donated contributions of $41,871 from community businesses and the Friona Chamber of Commerce & Agriculture money-raising projects in addition to the $20,000 committed by the City of Friona. The campaign total now stands at $86,871 and is moving toward the goal of $220,000. (more...)
Two accidents on Hwy. 60 in two days
Emergency personnel were kept hopping Monday, August 28 and Tuesday, August 29 with two vehicle accidents on Highway 60 involving pickups and semis.
DPS, Parmer County Sheriff's Office, Friona Police Department, Friona EMS and Friona Volunteer Fire Department responded to a vehicle accident six miles west of Friona on Monday afternoon at approximately 3:15 p.m. to a major accident involving a C.R. England semi truck and trailer and a 2005 blue Dodge pickup. (more...)

FISD School Board approves 2017-18 budgets
The Friona Independent School District Board of Trustees met in two special sessions on Monday, August 28, 2017 in the board meeting room of the FISD Administration Building.
The first meeting was held to conduct a public hearing on the adoption of the 2017-18 Maintenance and Operations Budget (M&O), the Interest and Sinking Fund Budget (I&S) and the Cafeteria Budget. (more...)