dana jameson photo
The 2017 Homecoming bonfire pep rally on Thursday, September 14 was highlighted by the spectacular display above. The Booster Club and FHS had to rethink the bonfire after recent rains flooded Reeve Lake. After the bonfire the skies above Chieftain Field were lit up by a breathtaking fireworks display.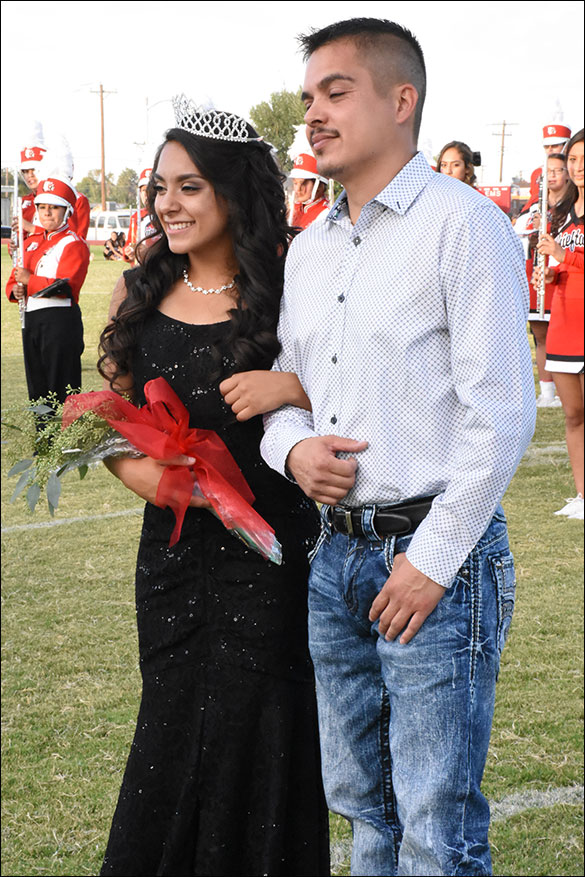 dana jameson photo
2017 Homecoming Queen Jackie Legarreta was crowned before the Chieftains walloped the Bovina Mustangs 48-13. Jackie's father, Alfredo, was her escort for the evening.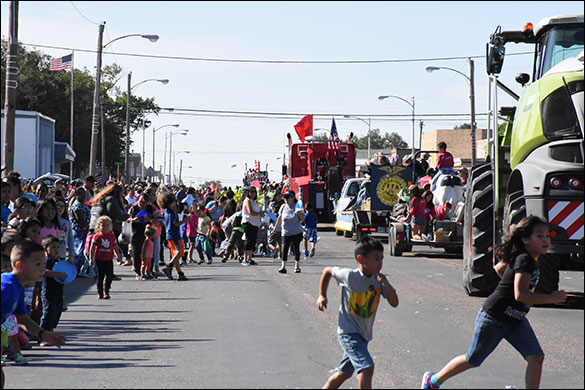 dana jameson photo
Kids and adults lined Main Street Saturday, September 16 during the 61st Annual Maize Days parade. Friona Man and Woman of the Year Clint Mears and Jeri Lynn White led the parade. Above, the kids enjoyed the candy that was thrown from each of the vehicles as they passed. More highlights from the parade are inside.
The Parmer County Tax Assessors office will be closed Friday, September 29, 2017 for audits.
*****
The Parmer County Tax Assessors office invites everyone to join them for a retirement celebration honoring Bobbie Pierson, Parmer County Tax Assessor, on Friday, September 29 from 2-4 p.m. at the Parmer County Courthouse. (more...)
Twenty-four compete in Dixon Memorial Run/Walk
The 2017 Dixon Memorial Run/Walk held Saturday, September 16 during the Maize Days festivities drew 24 participants. Fifteen participants took on the two-mile and nine participants tackled the six-mile competitions.
Two-mile competition results:
Student (Boy) division: Adrian Legarreta took home first place with a time of 12:24. Alan Martinez was second with a time of 12:35. Third place was Jared Rejino with a time of 13:21.
Student (Girl) division: Jackie Legarreta came in first with a time of 12:36. Emily Amaya took second place with a time 15:27 while Esperanza Santiago placed third with a time 17:51. (more...)
Parmer County Cancer Coalition 'Pink Out' Oct. 27

As part of Breast Cancer Awareness Month the Parmer County Cancer Coalition (PCCC) will once again be sponsoring the "Pink Out" football game in Friona. This year the Pink Out game will be Friday, October 27 as the Chieftains host the Muleshoe Mules. Show your support and Pink Out Chieftain Field. T-shirt orders are being taken until Monday, October 2. Order forms are available at the Chamber office and the Friona Public Library and in the Friona Star. Forms will be distributed to the Primary and Elementary schools as well. (more...)

Order your Pink Out shirts by Oct. 2

The Parmer County Cancer Coalitions will be "Pinking Out" Chieftain Field Friday, October 27 as the Chieftains take on the Muleshoe Mules. PCCC is partnering with Friona ISD again this year to fight back against breast cancer and to raise awareness of breast cancer and its impact on our community. If you want to order an official 2017 Pink Out short sleeve or long sleeve shirt, order forms are available at the Friona Chamber of Commerce office, the Friona Public Library or in the Friona Star. Short sleeve shirts are $10 with XL sizes priced at $12. Long sleeve shirts are $12 with XL sizes priced at $15. For more information, call (806) 250-3545