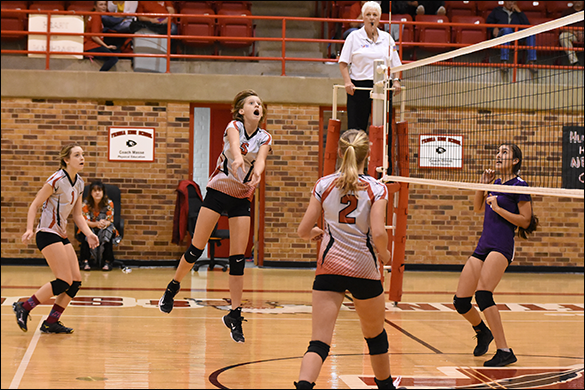 dana jameson photo
The FHS Junior Varsity Squaws were in action at home on Tuesday, September 26 against the River Road Lady Cats. Jodie Denton, #5, center, returns the ball after an intense exchange. Graci Stallings, #1, and Kambree Kimbrough, #2, are on the ready to assist.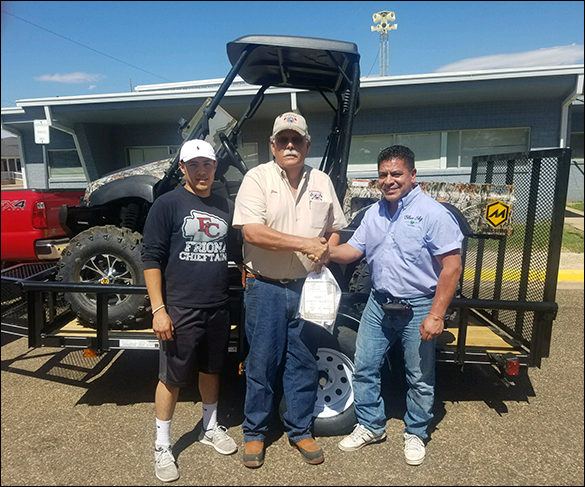 dana jameson photo
Jose Ojeda, right, was the winner of the Massimo 4-wheeler from the Friona Volunteer Fire Department at Maize Days. Jim Taylor, center, congratulates Ojeda and his son, Josue.
The United Way will meet on Wednesday, October 11 at 7 a.m. at Headquarters to discuss this year's drive.
*****
The FHS Band Boosters will host a brisket dinner this Sunday, October 1 at the Friona Junior High School Cafeteria from 11:30 a.m. to 1:30 p.m. Tickets are $10 and available from any Band Booster parent or at the door. For deliveries during the time of the meal, text or call orders and addresses to Jeri Lynn White at (806) 265-7737. They will be serving up delicious brisket and all the fixings. (more...)
2017 Sheriff's Night Out unites Parmer County

The Parmer County Sheriff's Office will host the Parmer County Sheriff's National Night Out on Tuesday, October 3 at the Parmer County Law Enforcement Center at 300 4th Street in Farwell from 6-8 p.m. County residents are invited to come out and enjoy an evening of camaraderie that promotes police-community partnerships. (more...)