Obituaries
Betty Louise (Shaw) Morgan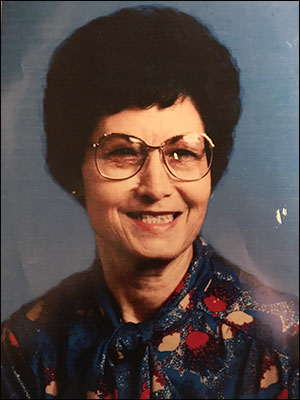 Betty Morgan, 83, passed away on January 14, 2018, in Azle, TX, after a prolonged illness. A memorial service will be held at 11:00 AM on January 27, 2018, at Sanders Funeral Home in Lubbock, TX.
Betty was born on December 3, 1934 in El Paso, TX, and grew up in Melrose, NM. She married Bill Morgan in 1952, and eventually made their home in Friona, TX. Guests in her home were always greeted with a hearty supper and fresh baked cookies or cake, or a homemade pie. Besides being the world's greatest cook, she enjoyed sewing and crocheting, attending craft events, and the Senior Citizens Center. Betty was a member of Calvary Baptist Church.
Betty was preceded in death by her husband Bill Morgan, her parents, S. K. and Margaret Shaw, and a sister, Patricia Shaw. Survivors include two daughters, Carol Gilley of Keller, TX, and Tonna Broyles and husband Jimmy of Logan, NM, a son, Dennis Morgan and wife Jennifer of Little Elm, TX, two sisters, Barbara Hughes of Clovis, NM, and Sheryl Nation of Wellington, TX, two brothers, Billy Shaw and wife Bennie of Hagerman, NM, and Gary Shaw and wife Choleng of Bettendorf, IA, 6 grandchildren, 13 great-grandchildren, and 3 great-great-grandchildren.
Darrell Barlow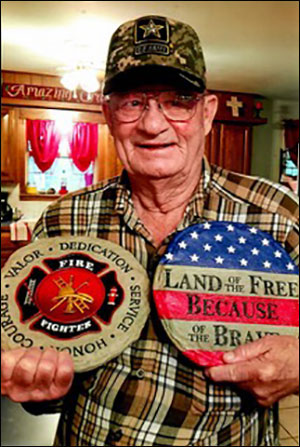 Darrell Barlow, 74 of Wagoner, Oklahoma passed from this life on Sunday, January 14, 2018 in Tulsa, Oklahoma with family by his side. He was born June 13, 1943 in Amherst, Texas to the late Lewis Elvin Barlow and Edith Mae Ledger Barlow.
Darrell married the love of his life, Joyce Olene Richardson Barlow on November 5, 1961 in Earth, Texas and have been married for 56 years. Darrell served his country in the United States Army for 3 years and held this opportunity in high regard. Darrell was a Town Operator for Atmos Energy for 40 years before his retirement and was a true servant to his community be serving as a Volunteer Firefighter for over 25 years where he was also a storm chaser and reported for the fire department newspaper. He loved to ride motorcycles, was an oil painter, enjoyed fishing, was a craftsman where he specialized in making "Whirley Gigs" for his family and friends and he loved to sit back and drink his stout coffee while reading the paper. Darrell was also a former member of the Noon Lion's Club and was a Baptist.
Darrell is survived by his loving wife, Joy Barlow of the home; one daughter, Norma Joy Hight and husband Joel of Wagoner, Oklahoma; one brother, Tommy Barlow and wife Ruby of Lubbock, Texas; two grandchildren, Britny Boyd and Joy Hight; five great-grandchildren, Gavyn Coleman, Jayden Dobbs, Dayton Dobbs, Cheyenne Boyd and Colton Boyd; three nieces and two nephews. He was preceded in death by his parents and one sister, Barbara Nance.
A Celebration of Life service will be held at 2:00 p.m. on Wednesday, January 17, 2018 at Dillon Marler Dighton Funeral Home's Legacy Chapel located at 1200 N. Cleveland Ave., Sand Springs, Oklahoma with Military Honors provided by the United States Army Honor Guard.
Lee B. Alexander
Lee B. Alexander, age 99 years, passed away Wednesday, January 10, 2018, in Friona, Texas, just 18 days before reaching his 100th birthday.
Lee grew up in Bonham, Texas, and was the youngest of 10 children. He had many memories of helping his father on the farm while attending school. After graduating from high school, Lee began a long career in the service. He served first in the Texas National Guard, then in the United States Army, and finally in the United States Air Force, including stints overseas in Germany during World War II. He retired from the military after serving 20 years in the Air Force.
Upon retiring from the military, Lee served for 21 years as the Executive Director of Goodwill Industries for North Texas. Under Lee's leadership, Goodwill expanded from one workshop and two retail outlets to operations that covered 15 Texas counties, including a modern plant and eight retail outlets serving Sherman and seven other area towns. Lee was honored by the Texas State Senate and by the cities that he served with proclamations designating January 28, 1983, as "Lee Alexander Day" in honor of his dedicated service and in recognition of his accomplishments with Goodwill.
Lee married Thelma LaRue Gwyn on April 10, 1952. Together they raised four boys – Glenn, John, Craig, and Dudley. After a long, loving marriage, Thelma passed away in May of 2017.
Lee was a faithful member of the Sherman Rotary Club, Key Memorial Methodist Church, and the American Legion. He was recognized with a certificate for 60 years of continuous membership in American Legion Post 29.
Lee is survived by his four sons and their spouses, nine grandchildren (Misty, Reva Lee, Anna, Brando, Hollis, Alex, J, Kendal, and Harrison), five great-grandchildren (Austin, Emily, Hayden, Hailey and Reagan), and his special neighbor-daughter, Brenda Lampe. A graveside service was held at West Hill Cemetery on Saturday, January 13, 2018. It was a full military service which included the 21-gun salute and the playing of Taps.
John Green (Gene) Goodner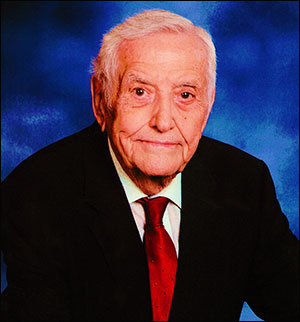 John Green (Gene) Goodner, 89 of Friona, formerly of Houston passed peacefully Saturday, January 13, 2018 in Friona. There will be no services. Cremation by Blackwell-Mullins Funeral Home of Friona
He was preceded in death by his parents Monte H. (M.H.) Goodner and Myrle Wigington Goodner and, sisters LaNez Elam and Nancy Burkhalter, all of Tulia, Texas and, grandson Michael W. Goodner of Houston, Texas. Gene is survived by his wife, Mary Johnston Goodner of Friona, Texas; sister Judy Newton of Howardwick, Texas; sons Monte C. and John A. Goodner of Hockley, Texas and Sealy, Texas respectively; daughter Regina of Denver, Colorado and a host of grandchildren and great grandchildren.
Gene left high school in Tulia to attend the U.S. Maritime Academy in Pass Christian, Mississippi shortly after the end of WWII. He sailed as a Steamship Mate in the Merchant Marine, then entered the U.S. Army to serve two combat tours in Korea, earning the Army Commendation, Bronze Star and Purple Heart Decorations. He went-on to become an Army Officer and Army pilot of both fixed-wing airplanes and helicopters. His piloting skills were later put to crop dusting in Swisher and surrounding Texas Counties; airmail and supply service during the Glen Canyon Dam project in Arizona (Lake Powell) and passenger and cargo flying in Utah, Colorado and Wyoming.
Goodner operated cabinet shops in Tulia, as well as in LaPorte, Texas, then went-on to become a home builder in Atlanta, Georgia and Houston, followed by 14 years of service as a City of Houston Councilmember. He retired for a time in Tomball, Texas, but returned to The Panhandle in 2010 after marrying his high school sweetheart, Mary Johnston in 2009. He lived his remaining years with her in Friona.
Gene left The Edwards Plateau as a youth to sail and to seek things more stimulating and exotic than farming dryland cotton and wheat. He worked as a Roughneck in the oilfields under Brother-In-Law J.D. Elam throughout the Mountain States; he panned for gold in The Yukon with Brother-In-Law Jim Burkhalter and built hundreds of homes, townhouses and duplexes. He loved to fly; he loved The Army and he devoted himself to Houston politics and management, but in the end, he was drawn back to his Panhandle roots and back to Mary Johnston and Friona, where the wind is ceaseless and the distant sound of train wheels clicking against the rails is as endless as the Panhandle sky and The Great Plains themselves and, where kin and neighbors celebrate life and share the burden of mourning the loss of one of their own.
Jesse Spencer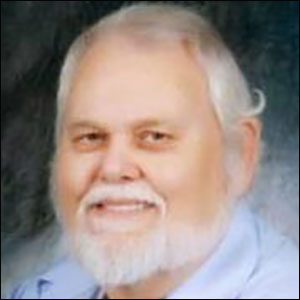 Jesse Glenwood Spencer, 73, of Soddy-Daisy, passed away on Friday, January 12, 2018. A native of Texas, he lived here for over 40 years. He was of the Baptist faith. Jesse worked for Trotter Pontiac for many years. He loved to fish and work in his garden. Jesse was preceded in death by his parents, J.D. and Jeriah Spencer; brother, Raymond Spencer and granddaughter, Angel Stelling.
Survivors are his wife, Anita Robinson Spencer; sons, Johnny Spencer (Tammy) and Jeff Spencer (Tina); daughter, Jeanette Phillips; brother, J.D. Spencer, Jr. (Jan); sisters, Louise Nunley (Jim) and Diane Burks; grandchildren, Amanda Deering, Sarah Spencer, Cody Stelling, Casey Stelling, Josh Kilgore, Brittany Kilgore, Jacob Kilgore and Levi Phillips; great grandchildren, William Deering, Colton Jordan, Tanner Jordan and Pamela Stelling; many nieces and nephews.
Services will be Tuesday, January 16, 2018 at 12:00 p.m. in the funeral home chapel with Rev. Mike Combs officiating. Burial will follow at Lakewood West Memory Gardens. Visitation is Monday from 3:00 p.m. to 8:00 p.m. at the funeral home.
Condolences and memories can be shared at
www.williamsonandsons.com.
Arrangements are by Williamson and Sons Funeral Home, 8852 Dayton Pike, Soddy-Daisy, TN 37379.
Mark Coronado
Mark Coronado, 49, was born on August 4, 1968 to Amado Coronado and Virginia Coronado. He graduated from Friona High School in May of 1987. He loved the Dallas Cowboys. He was an author and wrote a children's book. He acted and produced a short film. He served our country in the United States Army for 4 years. He fought in the Desert Storm War in Iraq. He loved to work out.
Mark Coronado is survived by his mother Virginia Coronado, daughter Marica Coronado, sisters Michelle Kirby, Jessie Walker, Sookie Coronado, and brothers Pete Coronado and JR Coronado. He is preceded in death by his father Amado Coronado and daughter Adalyn Coronado.
Elizabeth "Gail" Trevison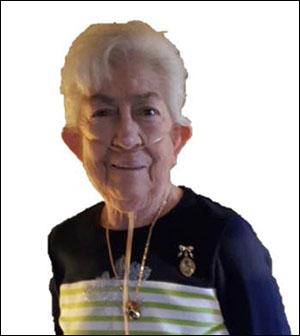 Mrs. Elizabeth "Gail" Trevison, 69, of Fayetteville, N.C. passed away on Friday, January 12, 2018.
Gail was born April 29, 1948 in Bogata, Texas. She was raised in and graduated from high school in Friona, Texas. Gail was a proud veteran and served in the United States Women's Army Corps. during the Vietnam War era. She received many commendations during her military service and was awarded the National Defense Service Medal. Gail received a Honorable Discharge on September 16, 1968.
She was an avid bowler and one of her beloved hobbies was cross stitching.
She was preceded in death by her parents, James R. and Stella J. Varner; brothers, Phillip and Stanley Varner; a sister, Martha Sheppard; and a son, Jeffry D. Trevison.
Gail is survived by her husband, Robert C. Trevison of the home; daughters, Barbara D. Clark and husband, John of Foxfire Village, N.C. and Stefanie D. Trevison of the home; a brother, James Varner and wife, Lindy of Hereford, Texas; and a granddaughter, Katelyn Christine Clark of Greensboro, N.C.
The family will receive friends from 7 pm to 9 pm Friday, January 19, 2018 at Rogers and Breece Funeral Home Fayetteville, N.C. A funeral service will be held at 2 pm Saturday, January 20, 2018 in Rogers and Breece Funeral Home Chapel with Rev. Roy Arrington officiating. Burial will follow in Fayetteville Memorial Cemetery Fayetteville, N.C.
Services entrusted to Rogers and Breece Funeral Home 500 Ramsey Street Fayetteville, N.C. 28301.