City of Friona and Hi-Pro Start Curb Painting Project
Over 60 West Texas residents, all employees of Edward Jones, are taking part in a historic event - a transcontinental walk across America to fight Alzheimer's disease. Those participating are also including family and clients.
"This four-month Walk Across America is one more way to increase awareness of Alzheimer's and the resources available to deal with it," said John Beuerlein, the Edward Jones principal who leads the firm's Older Adult Council.
"For nearly a century, Edward Jones has been in the business of building relationships and investors' wealth," said Janet Bates , Edward Jones financial advisor. "Alzheimer's disease destroys both."
Edward Jones decided to take on this heady challenge to call attention to the country's sixth-leading cause of death. In January 2016, the firm entered a strategic alliance with the Alzheimer's Association, committing $4.7 million over two years to enhance the Association's care and support programs, provide educational materials on brain health, and fund critical Alzheimer's research and grassroots awareness efforts.
Edward Jones signed on as the first national presenting sponsor of Walk to End Alzheimer's (which is not affiliated with the Walk Across America) and created the Edward Jones Alzheimer's Research Fund. The firm extended the alliance in 2017 to a five-year, $12.5 million commitment. In return, the Alzheimer's Association provides services, support and education on brain health and Alzheimer's to Edward Jones' clients and associates.
The participating Lubbock, and surrounding area financial advisors are: Janet Bates, Corey Carter, Daniel Castro, Steve Dement, Megan Dunn, Kevin Knight Kyle Motheral, Ethan Tucker, Westin Tucker, Kevin Knight, Kassidy Pagett and Wayne Pierson..
Edward Jones, a Fortune 500 company headquartered in St. Louis, provides financial services in the U.S. and, through its affiliate, in Canada. Member SIPC.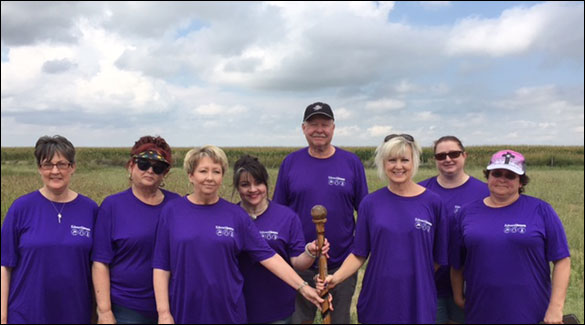 The following Lubbock residents participated in the walk from the Bovina statue to the Friona Dairy Queen. (l-r) Gayle Johnson, Vicki Steward, Christi Durham, LaJennia Minor, Charles Bates, Janet Bates, Taronna Whitehurst, and Sheri Derrick. All of the participants are from Lubbock.