Miss Friona Pageant kicks off 2018 Maize Days Celebration
The 62nd Annual Maize Days Celebration is just around the corner. Festivities will be held from September 15th through September 22nd. "Friona Rocks" is the theme this year and the Friona Chamber of Commerce would like to encourage everyone to adopt a 50s rock 'n roll attitude during the week.
Saturday, September 15th
The Miss Friona Scholarship Pageant & Little Miss Contest will start at 6:00 p.m. in the Friona High School Auditorium.
Friday, September 21st
The 2018 Homecoming Football Game will feature the Friona Chieftains playing host to the Lubbock Roosevelt Eagles. The Homecoming Queen for 2018 will be announced during the pre-game festivities which will begin around 6:30 p.m. at Chieftain Field.
Saturday, September 22nd
The Dixon Memorial Run will start at 7:00 a.m. at Reeve Lake and will feature a 2 mile and 6 mile Run/Walk. Pre-registration is $20 (with t-shirt) or $25 (no shirt) for registration at the event. Proceeds will benefit Parmer Paws.
Line-up for the parade will begin a 9:00 a.m. at 10th & Euclid and the Maize Days Parade will start at 10:00 a.m.
Quilt Show, Rock Climbing, Food & Fun in the City Park.
There will be handicap accessible parking available on the south side of the park on Saturday.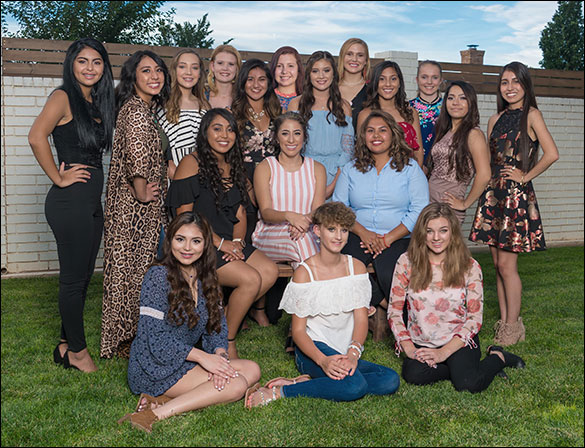 One of these 18 young ladies will be crowned Miss Friona this Friday night when the Miss Friona Scholarship Pageant "rocks" the start of the Annual Maize Days Celebration. A Little Miss will also be crowned and there are 12 little girls participating this year. Please see our special section which previews all of the contestants in both events. All Miss Friona pictures were taken by Eric Gonzalez of EG Photography.