Take Five with Joy Morton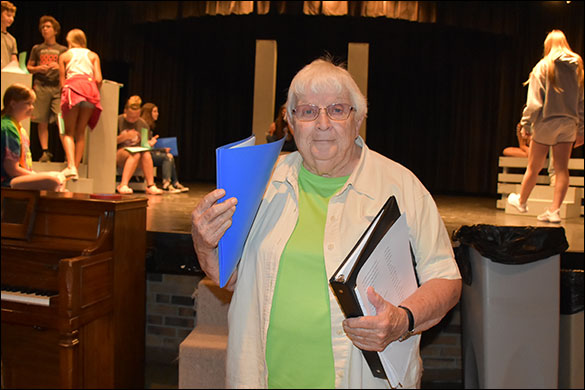 Joy Morton taught in the Friona school system for 42 years. She started in the Fall of 1962 and retired in the Spring of 2004. After a short retirement, she started teaching again at the Hereford campus of Amarillo College. She began this second career in the Fall of 2005 and is still teaching there today.
Summer Drama Workshop is turning 50 this year. What have been the benefits of the program over the years to the participants, the community, and to you as an instructor of fine arts?
According to numerous past participant Summer Drama has presented them an opportunity to connect with "out of towners" and make new and lasting friendships. John and Kathryn Gurley frequently host the high school cast members for after rehearsal get-togethers. All of the workshop participants are able to showcase their talents while having tons of fun.
One of the benefits for the community is the opportunity to witness what the participants have learned in two weeks. Numerous participants have returned to Friona to help with the program, and often their children come to visit other relatives so they can be a part of the workshop. The community of Friona has always supported summer activities and thus has created a wonderful legacy of giving.
Being a "Charles in charge" and/or directing not only provided me with an opportunity to connect with the participants but also throughout the years to construct tons of props and practice my directing skills.
Every profession, sport, or even activity has a basic set of fundamentals or skills associated with it. What are some of those skills that Summer Drama Workshop instructors teach the kids to help them grow and excel as performers?
Students who participate in Summer Drama Workshops are taught the three basic tools of acting: body, voice, and mind. During the course of the workshop the students use these skills at each rehearsal. Ultimately each performer grows and excels.
If you could pick one comedy and one drama to produce, which ones would you choose and why?
For me to select one drama and one comedy to direct would be impossible. There are too many fantastic shows that have been published. I will plead the 5th on this question.
In sports, marching band, etc. there always seems to be that one special year where everything fell together. Did you have a year when your One Act Play had the right students, the right style of play, and the right set of circumstances where everything seemed to work out almost like magic?
Because I like to focus on the concepts of "it's all about the journey" and "theater is a slice of life", there have been numerous magical one act play years for me. I always try to pick shows that fit my students. For me, every show I have directed has had its own magic!
Can you tell us the history behind "Morton's Mob" and is there a secret handshake involved?
Many moons ago I took a group of students to perform for the Lion's Club. Cecil Maddox introduced the group as "Morton's Mob" and that label stuck to us like Gorilla Glue. There really is no secret handshake...just years and years of fun performing and entertaining others.