Chiefs lose district opener to Muleshoe
The Chieftains had a long night in Muleshoe last Friday. The Chiefs kicked off to the Mules. On the first offensive play Muleshoe scored on a 60+ yard run and the night did not get any better from there. Final score was 60-7.
The Mules rolled to 477 yards of offense, 177 rushing and 300 passing. Friona's total offense was 196 rushing, 57 yards passing, for a 253 total.
Workhorse running back Ediladio "Eddie" Garcia carried 29 times for 178 yards and he scored the Chiefs only touchdown late in the 4th quarter. QB Mason Loflin completed 5 of 18 passes for 57 yards. Abel Palacios led the defense with 8 solo tackles, 4 for losses.
The Chiefs host the Childress Bobcats Friday night for game two of district play.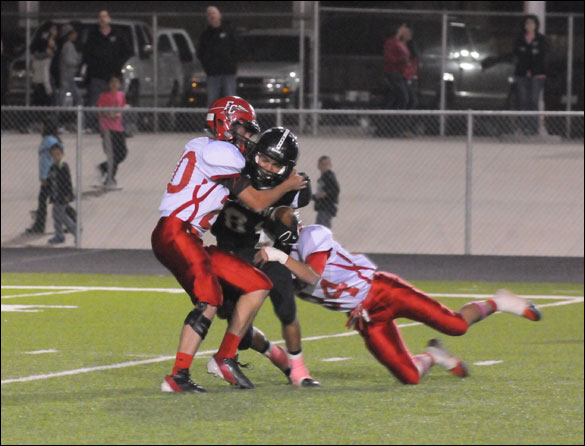 ron carr photo
Brenton Hickman (20) and Esdras Rodriguez (34) tackle hard after a Muleshoe pass completion. Action photos available in our photo section.