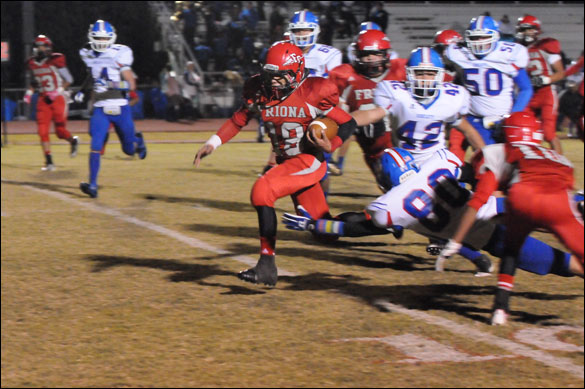 ron carr photo
Eddie Garcia (18) leaves everybody behind on his way to a 16-yard touchdown in the second quarter. His TD made the score Childress 12 Friona 6 at halftime. The Chiefs scored in the third quarter on an 81 yard touchdown pass from Mason Loflin to Dallin Woods to take the lead 13-12, but Childress came back to win 23-20. Another Loflin pass to Justin Rocha was good for a 65-yard 4th quarter touchdown.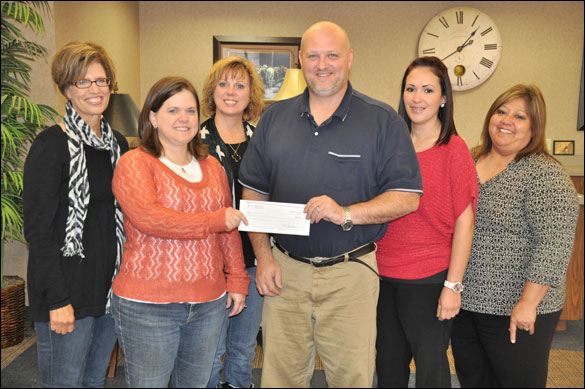 ron carr photo
First National Bank-Friona Banking Center held a sausage wrap lunch for donations to the Parmer County Cancer Coalition. From left, Cancer Coalition members Jyl Grimsley, Barbara Grimsley, and Jamie Lewellen receive a check for $860 from bank employees Jeff Ray, Mayra Olmos, and Patsy Vazquez. The bank said thanks to everyone that came by and donated and enjoyed a sausage wrap.
Town Talk II
Not much weather to report this week except I can vouch that it was freezing cold at the Chieftain football game Friday night. Temps overnight Friday dropped to 26 here. I wore big coat, two shirts, gloves and still had frozen feet and hands by halftime so I bailed and went home to thaw out. Not as tough as I once was. We had beautiful weather Tuesday and Wednesday but more cold headed our way next week.
*****
Elsa Galaviz, who works for Allan Haile at State Farm, had her Tahoe stolen from the mall parking lot in Amarillo over the weekend. In Friona, Allan says he had a trailer stolen recently, Tracy Bunker had a trailer stolen, and Jayson Grimsley had an air compressor stolen out of his pickup. There are theories about the local thefts but no arrests or suspects. It is a damn shame and a big inconvenience to all parties. (more...)
The Friona Chamber of Commerce is in need of volunteers to "Light Up City Park" for Christmas. This year the Christmas in the Park will be held Monday December 2, beginning with Santa's arrival at 5:30 p.m. More entertainment is also being planned. (more...)
Friends of the library Veteran's Breakfast
Friends of the Library would like to invite All Veterans to our annual Veteran's Breakfast at the Redeemer Center at 1304 Virginia St. On Nov. 11, 2013 from 7:00 am to 9:00 am
(more...)
Win a brisket for your holiday cooking! The Friona High School Band Boosters will be raffling three individual frozen uncooked briskets. Drawing will be Sunday November 17 at the band's annual brisket dinner. (more...)
Squaw volleyball: playoffs ahead
From Coach Bryan Masse
On Tuesday October 15 the Squaws played host to the Olton Fillies. It was a good night for the Squaws as all three teams won their matches. They held off the Fillies with some good defense and serving.
On Saturday October 19 the teams traveled to Littlefield to take on the Lady Cats. (more...)