Obituaries
Ted Renner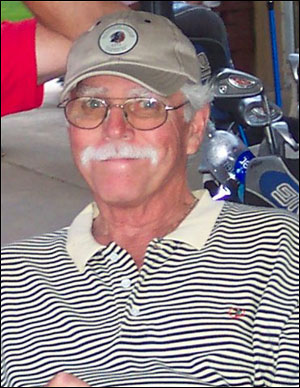 On October 9, 2013, Ted W. Renner went to be with our heavenly Father. We give thanks to God for the time Ted shared with us.
Ted William Renner was born July 18, 1948 to John William Renner and Lavon Baize Renner. He graduated from Friona High School in 1967 and shortly thereafter joined the US Navy. Ted proudly served during the Viet Nam conflict. After his discharge he went to work for Union Oil Company which later became Chevron. He retired in 2007 after almost 30 years.
In 2008 Ted and Missy moved from Texas to Luther, Oklahoma. It was there he began to enjoy his retirement while fishing, reading, painting, and being with family and friends. Ted served on the town council for the Town of Luther from March 23, 2010 to April 12, 2011, but continued his involvement in an unofficial capacity for another year. This proved to be an enlightening experience into the world of politics.
Ted's passion for golf was shared by his entire family and many fond and raucous memories were created on golf courses all over the country. His love of reading created a vast knowledge of many subjects. He also enjoyed playing the guitar and painting. Ted loved his family and friends. Those relationships were most important to him. He adored his grandchildren and felt blessed to be a part of their lives.
Ted is survived by his wife Missy (Halsell) Renner; three daughters, Annie Sky Kisselberg and husband Terry, Sarah Lynn Berry and husband Scotty, and Elizabeth Bohanan and husband Monty; parents John and Lavon Renner; one brother, Gary Renner and wife Karen; one sister, Vickie Barker and husband John; grandchildren Sierra and Gage Kisselberg, Katelynn and Taylor Berry, and Caleb Wade Bohanan; and numerous uncles, aunts, and cousins.
A memorial service was held October 19, 2013 at the Christian Church in Luther, Oklahoma. Another memorial service will be held October 26, 2013 from 2:00 to 5:00 p.m. at the home of Gary and Karen Renner in Friona.
Memorials may be made to Carter Hospice, 3105 S. Meredian, Oklahoma City, Oklahoma 73119.
Janie Ramirez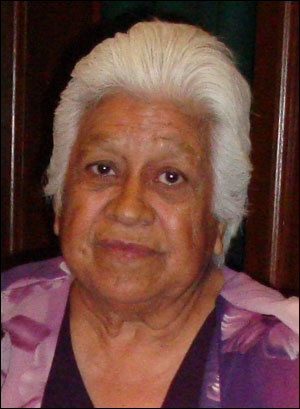 Juanita "Janie" Ramirez, 74, of Hereford, formerly of Friona, died Thursday October 17, 2013 in Hereford. Rosary services were Sunday October 20, 2013 at St. Teresa's Catholic Church in Friona. Mass of Christian Burial services were 3:00 p.m. Monday October 21, 2013 at St. Teresa's Catholic Church with Rev. Anthony Swamy Aakula, pastor, as Celebrant. Burial followed in the Friona Cemetery by Blackwell-Mullins Funeral Home of Friona.
Mrs. Ramirez was born August 21, 1939 in Calallen, Texas to Seferino and Isabel Lara Leal. She married Manuel Luis Ramirez May 29, 1957 in Farwell, Texas. She loved playing video games, loved her family, and was a member of St. Ann's Catholic Church in Bovina.
She was preceded in death by her father and husband.
Survivors include her mother, Isabel Lara Leal of Bovina; two sons, Manuel Luis Ramirez of Dodge City, Kansas and Moises Ramirez of Pflugerville, Texas; three daughters, Oralia Ramirez of Mesa, Arizona, Margaret Walter of Palm Beach Garden, Florida, and Leticia Ramirez of Hereford, Texas; six brothers, Seferino Leal of Dalhart, Tim Leal of Irving, Ruben Leal of Dalhart, Santiago Leal of Friona, David Leal of San Antonio, and Tommy Leal of Bovina; three sisters, Susana Munoz of Dalhart, Delores Telles of Amarillo, and Rosa Medina of Bovina; 19 grandchildren and 28 great grandchildren.
You may sign the online register book at blackwellmullins.com.
Sarah Schlenker Dean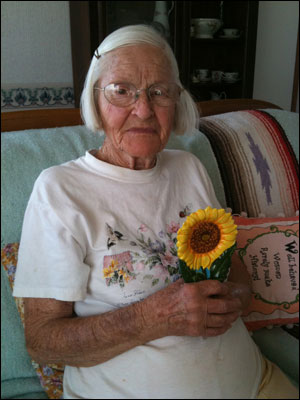 Sarah Schlenker Dean Sarah Schlenker Dean, 98, of Friona died Monday October 21, 2013 in Friona. Graveside services will be at 10:00 a.m. Friday October 25, 2013 in Friona Cemetery with Rev. Paul Mohr of Lubbock officiating. Visitation will be Thursday October 24, 2013 at Blackwell-Mullins Funeral Home.
Sarah Schlenker was born on October 11, 1915 in Curry County, New Mexico to Floyd Theobald Schlenker and Malinda Reeve Schlenker. She married Elmo Dean on September 9, 1933 in Clovis, New Mexico. Sarah was a lifelong resident of Parmer County where she was a member of the Union Congregational Church, member of Braille Writers, Women's Fellowship of the church, Home Demonstration of Rhea. She enjoyed gardening, painting, sewing and attending church.
She was preceded in death by her parents, her husband Elmo Dean on December 20, 1994, a sister, Amelia Rankin, and a brother Carl Schlenker.
Survivors include three daughters, Gladys Spring and husband Don of Bovina, Texas, Lindy Varner and husband Jim of Friona, and Florence Sifford and husband Billy of Bella Vista, Arkansas; six grandchildren, twelve great grandchildren, and seven great-great grandchildren; special friends Othelia Bennett, Tina Carrillo, Molly Casarez, and Linda White.
Memorials: Union Congregational Church, PO Box 805, Friona Tx 79035, Bluebonnet Home Health and Hospice, 304 East 11th, Friona, Tx 79035, or a favorite charity.