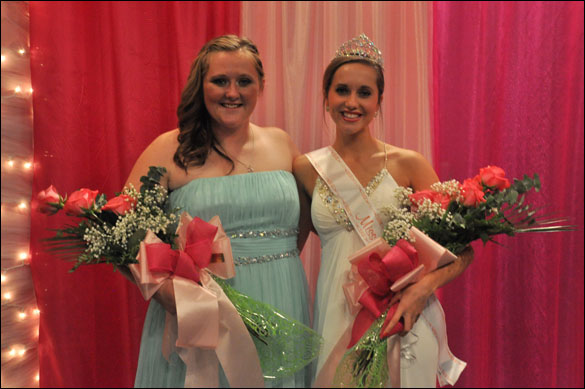 ron carr photo
The Miss Friona Pageant Saturday September 7, crowned Mykelti Rhodes, right, as the 2013 Miss Friona. Kailey Lucas was 1st runner-up and also Miss Congeniality. Mykelti was sponsored by Motion Industries and Kailey was sponsored by Partain Chiropractic Wellness Center. More photos from the Miss Friona Pageant at frionaonline.com. Congratulations to all of the girls that participated in the pageant.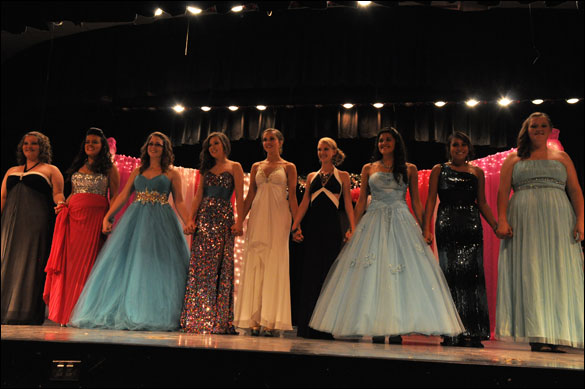 ron carr photo
The 2013 Miss Friona contestants await the judge's results at the Saturday night pageant. From left are, Holly Johnston, Jasmine Rodriguez, Mercedes Rodriguez, Courtney Bunker, Mykelti Rhodes, Bekah White, Christina Green, Karina Hernandez, and Kailey Lucas. Mykelti Rhodes was crowned the 2013 Miss Friona.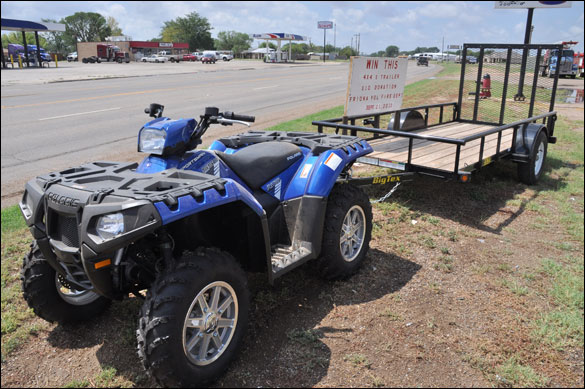 ron carr photo
You could win this. The Friona fire department is selling tickets for $10 to win this Polaris Sportsman 550 with on demand 4WD plus the trailer. Drawing will be Saturday September 21 during the Maize Days celebration. Tickets available from any fireman or at 4-Way Pump Service.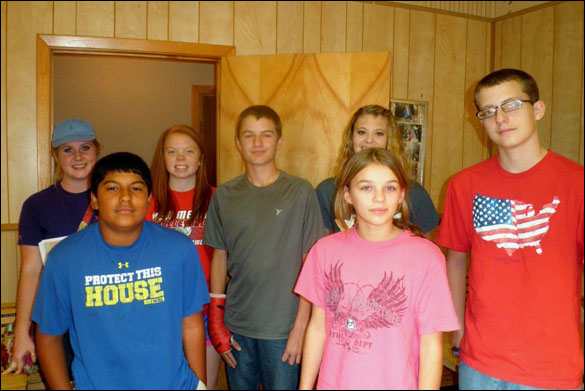 clint mears photo
The Friona 4-H officers met Sunday to plan for the year. The local 4-H students will be helping with the blood drive next Thursday September 19. From the left are Amy Osborn, Austin Mercado, Paige Upton, Hadley White, Aspen Fleming, Adaline White (in front), and Mason Fleming. Not pictured is Bryan Arzota, also an officer.
Town Talk II
Maize Days week continues next Tuesday with the Little Miss Friona contest. It starts at 6:00 p.m. in the high school auditorium. Tickets are $7 adults $4 students in advance or $8/$5 at the door. Advance tickets are available at the Chamber of Commerce office. The Little Miss contestants are featured in this week's Star.

*****

The Gospel Gathering is Wednesday September 18 at 6:30 p.m. at the high school. Free admission. Donations will be collected at the Gospel Gathering for the local SnackPak4Kids program. They would like to have 16 oz jars of peanut butter, Pop Tarts, or cash. There will be containers at the high school for donations. Please help. (more...)

McFarlands win week one football contest

The 2013 football contest is underway. Week one is done but there are 11 more weeks to play. Entering every week increases your chances of winning the $100 grand prize and you might win a few $25 prizes along the way. We have never had a grand prize winner that did not enter every week.

The first week had three contestants pick 14 of 15 games. They were Ronald Diaz of Friona and Rusty McFarland and John McFarland, both of Friendswood, Texas. We used the tie-breaker to determine the winner, in this case two winners. The McFarlands turned in identical entries, even down to both tie-breakers being the same. The tie-breaker game was Cowboys-Giants 67 points. The McFarlands' guess was 48 and Ronald Diaz guessed 28 so they were closer. (more...)

Great news!!! Home builder: Wayne Berry of Jillian Homes located in Clovis, New Mexico has agreed to come to Friona and build some duplexes/condos on the block between 6th & 7 street between Ashland and Woodland. Blue prints are at the architect as we speak. We will be able to see the prints in the near future to get an idea of what Wayne is proposing to build.

There will be mostly 2-bedroom, along with some 3 bedroom and a few 1-bedroom duplexes. We are very excited about this much needed addition. There will be a ground breaking ceremony on September 16th. This addition would not have been possible without the FEDC and Cargill(Jon Surman). A special thanks goes out to everyone involved that made this possible and a much needed addition to our community. Friona has needed this addition for a long time. (more...)

Booster Club News

The Parmer County Cancer Coalition's Pink Out night is Friday October 4 when the Chieftains host the Dalhart Golden Wolves. It is also the night of the Noon Lions Club burgers and fries tailgate party. Wear pink and come out and enjoy the burgers and the game and support our local cancer coalition program. (more...)