Chiefs smash Dimmitt 53-0
It was a breakout night for the Friona Chieftains as they demolished the Dimmitt Bobcats 53-0 with 424 rushing yards and eight touchdowns. Ten Chieftains carried the ball during the game.
They were led by junior running back Gabriel Chico who carried only six times but amassed 298 rushing yards and scored four touchdowns. His longest run was 89 yards. He averaged 49.67 yards per carry. The performance earned Chico the 4A-3A Player of the Week recognition by the Amarillo Globe-News.
Also scoring touchdowns were Salvador Santiago, Adrian Munoz, Chris Alvarez, and Luis Trejo who caught a 34 yard touchdown pass from Dallin Woods. The rushing game was so potent Woods only threw four passes, completing two for 54 yards, one to Justin Rocha for 20 yards and the other to Trejo for the TD. Woods carried five times for 31 yards and Alvarez six times for 38 yards.
On defense Tristan Castillo was credited with five solo tackles and ten assists. Edgar Guerrero had six solo tackles and five assists. Juan Macias kicked five of seven extra points.
The Chiefs travel to Muleshoe for a big rivalry game Friday October 17. Both teams are 1-0 in district. Muleshoe beat River Road 21-7. This week Childress will be at Dimmitt and Littlefield will be at River Road.
If you can't make it to the game tune in to KNNK 100.5 FM, WT Services channel 6, or online at knnkradio.com for the Muleshoe game broadcast. Announcers are Andy Montana and Darrell Ray.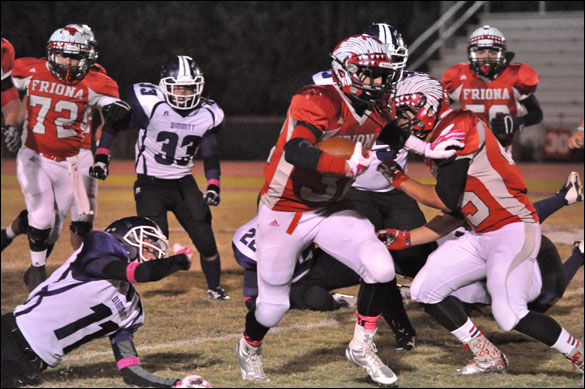 dana jameson photo
Gabriel Chico breaks out of the pack on the way to one of his four touchdowns vs. Dimmitt. Chico carried six times for 298 yards and four touchdowns. He was recognized by the Amarillo Globe-News as the 4A-3A Player of the Week. The Chiefs beat Dimmitt 53-0.