Squaws 2-0 in district
From Coach Bryan Masse
On Monday, October 13, the junior high teams travelled to Dimmitt to take on the Bobbies. All of the Maiden teams were successful in winning their matches.
Everyone except the 8th grade 'B' team swept the Bobbies in two games. The 8th grade 'B' team needed three games to silence the Bobbies.
The Junior High's last match is in Friona on Tuesday, October 21. The matches were moved from Monday, October 20 due to a conflict with the District Cross Country meet.
On Tuesday, October 14, the Friona Squaws volleyball teams hosted the Tulia Hornets.
The 'C' team started the night off with a win but it took three games to swat the Hornets. The Squaws took game one and lost two but rebounded to take three and win two games to one.
The Junior Varsity team continued their winning ways with a 2-0 sweep of the visiting Hornets. In the first game, the Squaws got off to a good start and were always in control for a 25-17 win. Game two was closer and although the team was not in rhythm, they still managed to win 25-21.
The Varsity Squaws were in competition for a district lead as they met the Hornets and managed to pull out a 3-1 victory.
In game one, the Squaws were not in sync and made too many errors but still managed a 25-21 win.
Game two was not like the Squaws at all. The ladies could not get anything going and made too many mistakes. It seemed to have the domino effect as one mistake led to another. Tulia won game two 25-10.
In game three, the Squaws came back to life serving and passing much better to a 25-18 win.
Game four was much like game three as the Squaws continued to put pressure on Tulia with good passing and serving. The Squaws had some really nice passes, sets and hits which led to a 25-19 win.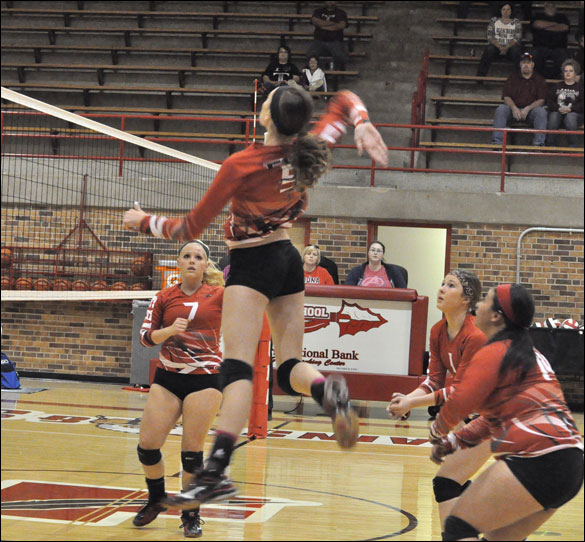 dana jameson photo
Kim DeWit gets a kill point against the Tulia Lady Hornets as teammates, l-r, Kendall Barnett, Courtney Bunker, and Samantha Davila look on. The Squaws beat Tulia and are 2-0 in district.