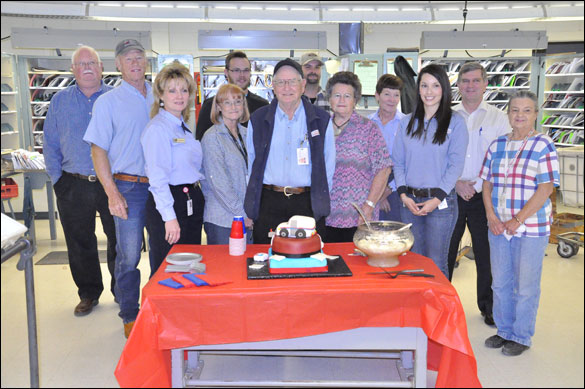 ron carr photo
Friona postal employees recognized one of their own Monday. Mr. Dale Hart has been a rural mail carrier in Friona for 60 years. He was surprised with a cake and punch reception, a certificate, and a watch, and lots of praise. The employees and the number of years they have worked for the post office are, l-r, Postmaster Jack Glover 32, Jim Atwell 15, Cherie Maddox 25 ½, Jan Box 10, Shay Harrison 6 months, Dale and Laura Hart, Jeremy Hart, Joann McDonald 26 ½, Brenda Mendez, James French, postal operations from Lubbock, and Carol Zetzsche. Our thanks to Dale and our post office employees for always providing friendly service to the community.


ron carr photo
Thanks Bessie Holt for your 50 years of service as the Friona blood drive coordinator. Mrs. Holt was honored at the November 6 blood drive with flowers and a plaque from Coffee Memorial Blood Center for her 50 years of service. The November 6 blood drive was her last one and we thank her from the community for her service.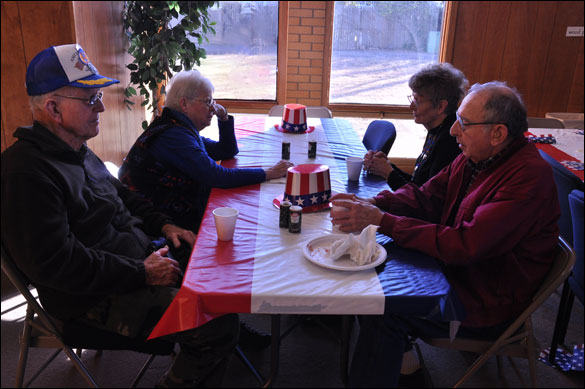 ron carr photo
Among those attending the Veterans Day breakfast at the Redeemer Center sponsored by the Friends of the Library were veterans Sam Mears, left, and Lewis Gore and their spouses Donna and Elizabeth. Thanks to these guys and all veterans past and present for your service and preserving our freedom.
Well it is another week and that Idaho potato farmer on TV is still looking for his big red potato truck. As is normal out here we went from 72 degrees Monday afternoon to 19 degrees Tuesday morning. Fortunately the sun was shining so it didn't feel so cold. Looks like cold weather is here to stay for a while.
*****
Some big shoes to fill as Bessie Holt has retired as the local blood drive coordinator after 50 years in the job. She was honored by the Coffee Blood Center at last week's blood drive and they are now searching for a replacement. If you are interested in possibly being the blood drive coordinator give Bessie a call to see what is required. We have a blood drive here six times a year and Friona donors are among the best in the Panhandle. Maybe you and a friend might take it on. (more...)
Ho! Ho! Home for the Holidays kicks off season
The Friona Chamber of Commerce has a busy holiday season planned for the folks of Friona.
"Ho, Ho, Home for the Holidays" will run from Monday, November 17 to Friday, December 19. Participating merchants will have canisters for customers to register when they visit. Each time you shop with a participating merchant you have the opportunity to sign up to win from $25 to $100 in Friona Bucks, which you can spend with these merchants.
Participating merchants are: A-1 Service Center, Bi-Wize Pharmacy, Blackburn Hardware, Carniceria Hernandez, Fast Stop Convenience Store, Campbell Electric, Headquarters Restaurant, Hunan's Restaurant, Glamour & Décor, Ivy Cottage Flowers and Gifts, Kendrick Oil Farm Store, Tasty Cream, Lowe's Supermarket, Malouf's Fabrics, Subway of Friona and Veterinary Industries. (more...)
Local veterans honored at breakfast
By Darla Bracken
Veteran's Day 2014 brought a cold, north wind and freezing temperatures to an otherwise clear, sunny day. Twenty-three veterans and their families (45 served) braved the weather to attend the Friends breakfast honoring our area veterans in appreciation of their years of service to our country.
A special photographic display included: E. G. Phipps, US Air Force, WWII; H. H. Horton, US Army, WWII, Japan; Edward White, Jr., US Army, Korea; Domingo Alvarado, US Army, Vietnam; Rex Bracken, US Army, Vietnam; and Darran Procter, US Army, Afghanistan and Iraq. All of these veterans attended with the exception of Darran Procter and Domingo Alvarado, who could not attend. Thank you for sharing your pictures! If you have photos and/or stories to share, please bring them to the library. (more...)
The Chieftains final regular season game with the Childress Bobcats was a contest to determine 3rd or 4th seed in the first round of the playoffs. The Bobcats dominated the stats and the score, handing Friona a 30-7 loss and setting up a bi-district match for the Chieftains in Plainview Thursday November 13 at 7:00 p.m. with the Shallowater Mustangs.
The Chiefs managed only 89 yards of offense at Childress, 87 rushing and 2 passing. The Bobcats totaled 292 yards, 171 rushing and 121 passing. (more...)
Volleyball ends and basketball begins. The new season for the basketball Squaws began Tuesday night with a trip to Lubbock's Christ the King. The Squaws won 48-35. Coach Darrell Ray took 10 varsity girls and when the night ended they had all played and scored.
Sophomore Paige Upton lead the scoring with 8 points. Other scoring: Taylor Stallings 6, Arianna Moreno 6, Christina Green 5, Alexis Alvarado 5, Kendall Barnett 5, Johnna Thompson 5, Kayla Castillo 2, and Evelyn Lozoya 2. (more...)