Local veterans honored at breakfast
By Darla Bracken
Veteran's Day 2014 brought a cold, north wind and freezing temperatures to an otherwise clear, sunny day. Twenty-three veterans and their families (45 served) braved the weather to attend the Friends breakfast honoring our area veterans in appreciation of their years of service to our country.
A special photographic display included: E. G. Phipps, US Air Force, WWII; H. H. Horton, US Army, WWII, Japan; Edward White, Jr., US Army, Korea; Domingo Alvarado, US Army, Vietnam; Rex Bracken, US Army, Vietnam; and Darran Procter, US Army, Afghanistan and Iraq. All of these veterans attended with the exception of Darran Procter and Domingo Alvarado, who could not attend. Thank you for sharing your pictures! If you have photos and/or stories to share, please bring them to the library.
Friends wish to express their thanks to American Legion Post 206 and VFW Post 1314 for their interest, and support as our partners since 2005. We want to also thank all of our own dedicated 'vets' for cooking and serving the breakfasts. We are sorely missing one of these, our current Friends of the Library President, Terry Hunt. Our thoughts and prayers continue for her and her family.
All area veterans are invited to this breakfast; please help us keep our list updated by contacting the library at 250-3200.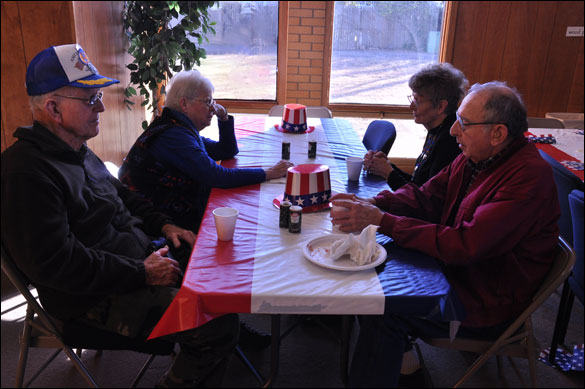 ron carr photo
Among those attending the Veterans Day breakfast at the Redeemer Center sponsored by the Friends of the Library were veterans Sam Mears, left, and Lewis Gore and their spouses Donna and Elizabeth. Thanks to these guys and all veterans past and present for your service and preserving our freedom.