Obituaries
James Wesley Cunningham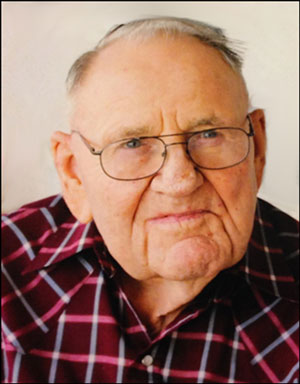 James Wesley Cunningham, 94, passed away peacefully Thursday, October 30, 2014, after a brief illness, surrounded by family and friends. Funeral services wer held Monday November 3, 2014, at Friona United Methodist Church. Burial followed in the Friona Cemetery by Blackwell-Mullins Funeral Home of Friona.
James was born September 29, 1920, to James Edgar and Susie Pelton Cunningham in Muleshoe, Texas. He was raised in the Muleshoe area where he attended school, farmed for his father, and worked in a cotton gin.
He served as a Military Policeman during WWII and married Vernell Hogue in Amarillo, Texas on February 11, 1943. They moved to Friona, Texas in 1946. He was a loving husband, father, grandfather, and friend to many.
James was an automotive electrician who was a faithful member of the Friona Methodist Church, serving as an usher for over 40 years. James loved woodworking and showing classic John Deere tractors in many parades and fairs. Hardly a Maize Days went by where James was not seen driving his tractor in the parade smiling and waving a the people lined up and down Main St.
Survivors include his beloved wife of 72 years, Vernell Cunningham; two sons, Dale Cunningham and wife Letha of Cushing, Texas and Joe Cunningham and wife Cheryl of Friona; a daughter, Janice Jones of Twin Oaks, Oklahoma; seven grandchildren, nineteen great grandchildren, and three great-great grandchildren.