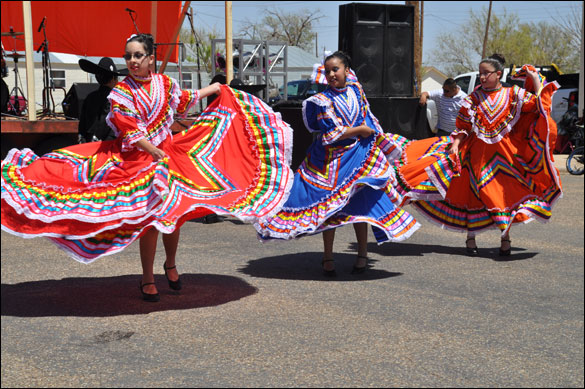 dana jameson photo
The Flamenco Dancers from Las Casitas Elementary School in Clovis, NM performed at the 3rd Annual Bovina Cinco De Mayo Celebration in downtown Bovina on Saturday, May 3rd.

Library Corner
By Darla Bracken
It's Story Time for Preschoolers.
Once again the time has come for a graduation, not from high school, but from our Library Story Time Program, "Dig Into Reading". (more...)
Town Talk II
Local weather update: hot, dry, windy. Forecast: more of the same.
*****
Friona high school senior Kailey Lucas was the recipient of the Daughters of the American Revolution (DAR) Good Citizen Award during the DAR Honors Tea Sunday April 27 at the Hereford Senior Citizens auditorium.
*****
Friona Life Smarts coach Gayle Murdock was named National Coach of the Year at the National LifeSmarts Championship competition held in Orlando, Florida last week. Ms. Murdock is retiring after 39 years tenure with the Friona Independent School District. She received the award from NBC News consumer reporter Herb Weisbaum at the national awards ceremony. Congratulations Gayle.
A reception for retiring teachers will be held Wednesday May 28 from 3:00 - 4:30 P.M. at the administration building. We will remind you again later. (more...)
By Mayor Rick White
I want to communicate this message to the citizens of Friona.
The first of February the City of Friona drained the I,000,000 gallon water tank northeast of Friona. The tank needed repairs, a new top, sand-blasting inside and out, and new paint. The project was contracted out and was to be completed in late March. (more...)