Obituaries
Hazel Dziuk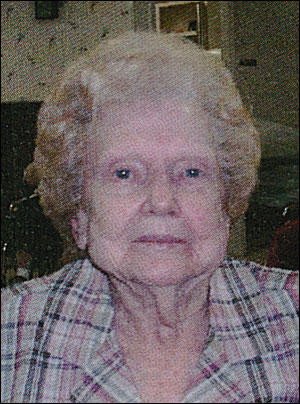 Hazel Kliewer Dziuk, 86, of Friona died Monday May 5, 2014 in Friona. Memorial services will be held at 3:00 p.m. Friday May 9, 2014 at Blackwell-Mullins Funeral Home in Friona with Ron Smiley officiating. There will be no public viewing.
Hazel was born March 10, 1928 in Seminole, Oklahoma to Hershel Vincent and Nellie Catherine Naveath Buckley. She loved to dance, read, shop, and loved her lab dog.
She is survived by one daughter, Lou Ann Ryan Voggesser of Friona; one sister, Lillie McClain of Ada, Oklahoma, five grandchildren and ten great grandchildren.
You can sign the online register book at blackwellmullins.com.
Reaford "Ray" Shirley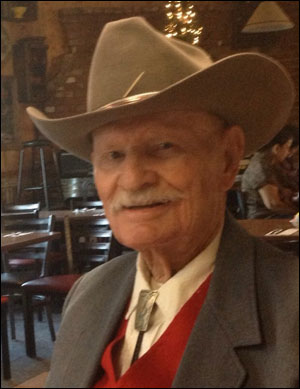 The music stopped on Friday, April 25, 2014 in Fresno, CA for Reaford "Ray" Shirley, 88 of Selma, California, formerly of Friona. Graveside services were held at 10:00 A.M. Friday, May 2, 2014 at the Friona Cemetery with Joel Brown, officiating. Burial followed under the direction of Blackwell-Mullins Funeral Home of Friona.
Reaford was born on June 9, 1925 in Vinson, Oklahoma to Jesse & Merler Sewel Shirley. He was the youngest of six brothers and four sisters.
He spent his youth raised on farms in the panhandle area of Texas and Oklahoma. While he never had a prestigious formal education, he was extensively educated in the vastly tougher school of life - becoming a mentor to many electricians and musicians.
In 1942, he married Irene Hand and had twins (Bobby & Brenda). In 1959, he married Shirley "Jane" Brockway and from that union had two additional sons (Jesse & William).
He worked as a journeyman electrician for over 40 years - wiring everything from homes to nuclear power plants all over California, Texas, and other parts of the country.
In addition to his family, Reaford's greatest love and passion was music. Though Reaford could not read one note of music, he played several instruments in his pursuit of making country swing, old time fiddle, and bluegrass music - even having a recording studio in his homes.
While he appreciated most instruments, he will always be known as an excellent "old time" fiddle player - becoming a well-known character, musician, storyteller, and judge at popular fiddling contests around the U.S.
While Reaford was a pretty good judge of musical talent and character, he sometimes missed the mark as revealed in the time that he told a bandleader that a "long haired" youngster named Vince Gill was probably not going to go very far in music.
Reaford's musical accomplishments are like his family, in that there are too many to list individually.
He was preceded in death by his parents, all nine of his siblings, his wife Shirley, and his son Bobby.
He is survived by his longtime companion Georgia Collins, his children: Brenda Rancourt and husband Ray of Chewelah, WA, Jesse Shirley and wife Maria of Las Vegas, NV, William "Bill" Shirley and wife Diane of Ojai, CA, four stepchildren, eight grandchildren, fourteen great grandchildren, and one great- great granddaughter, and multiple other extended family members - including his "siblings" at the California State Old Time Fiddler's Association.
Like any country music character, he has left broken hearts all over the U.S. and requested to be buried with his boots on (they're black) at his family plot in the windswept flatlands of Friona, Texas.
Family visitation and viewing were held Thursday 6-9 P.M. at the funeral home.
You may sign the online register book at www.blackwellmullins.com