The Chieftains opened the season with a 23-13 win at Olton, matching their win total from last year. There were a few first game mistakes on both sides. On the opening kickoff, the Chiefs bobbled the ball but Gabriel Chico scooped it up and rambled about 80 yards down the left sideline for a touchdown but it was called back on a Chieftain holding penalty. Neither team scored in the first quarter.
In his first start, quarterback Dallin Woods carried 13 times for 70 yards and completed 6 of 15 passes for 35 yards, and scored two touchdowns. Chico was the leading rusher with 22 carries for 114 yards. Luis Trejo added 12 yards on 6 carries.
Chico had another long run of about 98 yards when he picked up a blocked extra point try and ran the distance to add two points to the score. Defensive lineman John David Haile scored the first Chieftain touchdown of the season by recovering an Olton fumble in the end zone in the second quarter.
The Chiefs rushed for 196 yards and passed for 35 while holding Olton to 179 offensive yards. On defense Jacob Dickson was credited with 5 solo tackles, Antonio Adame 4, and Chico 3. Dickson also intercepted a pass.
The Chiefs travel to Abernathy Friday September 5 and the first home game is Friday September 12 vs. Tulia. Cargill will be serving free hamburgers, chips, and drinks to all fans at the home opener. All games are broadcast on KNNK 100.5 FM, online at knnk.com, or WT Services channel 6. Play by play announcers are Darrell Ray and Andy Montana.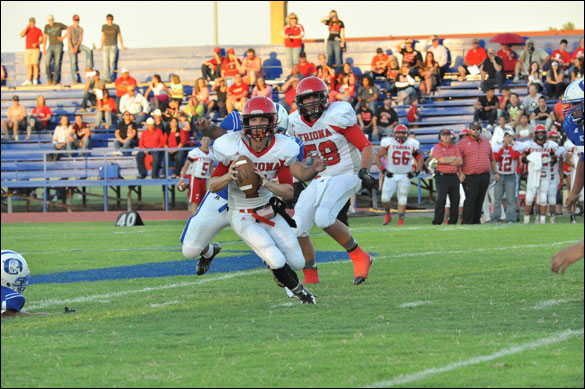 dana jameson photo
Chieftain quarterback Dallin Woods (7) escapes an Olton Mustang as teammate Brandon Berend (58) rides to the rescue. The Chiefs beat Olton 23-13. They travel to Abernathy Friday September 5.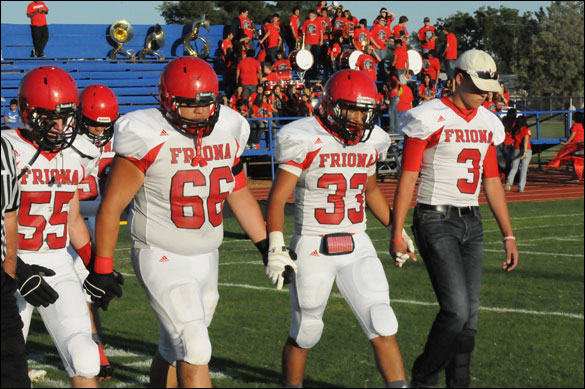 ron carr photo
The 2014 Chieftain captains take the field at Olton. They are John David Haile (55), Edgar Guerrero (66), Antonio Adame (33), and Mason Loflin (3).