Obituaries
Doris Margaret Johnson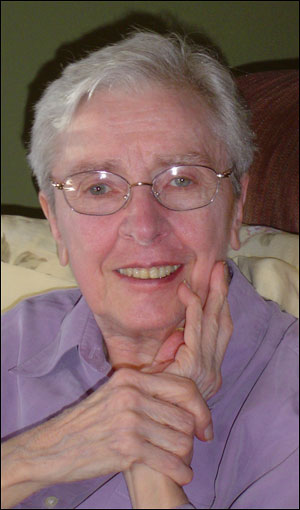 Doris Margaret Johnson, 89, of Friona, formerly of the Seattle, Washington area, died Tuesday, September 2, 2014, in Friona. Memorial services will be held 2:00 p.m. Friday, September 5, 2014 at Calvary Baptist Church in Friona with Pastor Bobby Broughton, officiating. Arrangements are under the direction of Blackwell-Mullins Funeral Home of Friona.
Doris was born January 1, 1925 in Highland Park, Michigan to Warren and Birdie Mae Campbell Weidman. She married Howard Johnson June 7, 1947 in another Highland Park, but this time in Illinois. They instantly became partners in life and ministry. Doris was a deacon and elder at the John Knox Presbyterian Church in Normandy Park, Washington where she and her husband were very active in youth and other ministries. She also served as airport chaplain in the Seattle area. She loved to cook, especially for her neighbors, knit and her voice was recorded many times reading books for books on tape.
Survivors include her husband of Friona; one daughter, Karen Baker and husband John of Friona; one son, Roger Johnson and wife Clarissa of Missouri City, Texas; and extended family Jack Hartness, wife Linda and their three children of Cottage Grove, Oregon; four grandchildren; and eight great-grandchildren.
You may sign the online register book at www.blackwellmullins.com