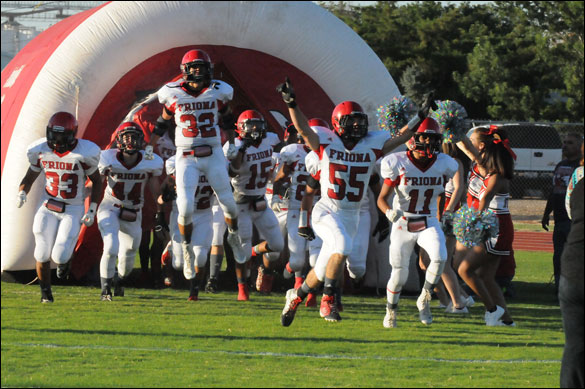 ron carr photo
Here come the Chiefs. Gabriel Chico (32) and John David Haile (55) lead the Chiefs onto the field to open the 2014 season. The Chiefs beat Olton 23-13. Haile recovered a fumble in the end zone for a touchdown and Chico ran a fumbled extra point attempt back 98 yards for a two point score. The Chiefs visit Abernathy this week and open at home against Tulia Friday September 12. Cargill will serve free burgers, chips, and drinks at the Tulia game.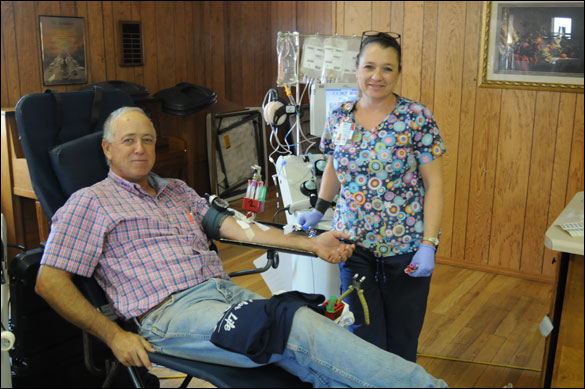 ron carr photo
Jim Murphree was one of the blood drive donors, shown here with Coffee Memorial technician Cindy Frame. Jim gave a trima donation which is equivalent to two units of blood. Altogether Friona donated 62 units of blood. The Coffee Blood Center tells us that Friona always exceeds the number of donations for a town our size. Thanks for giving the gift of life.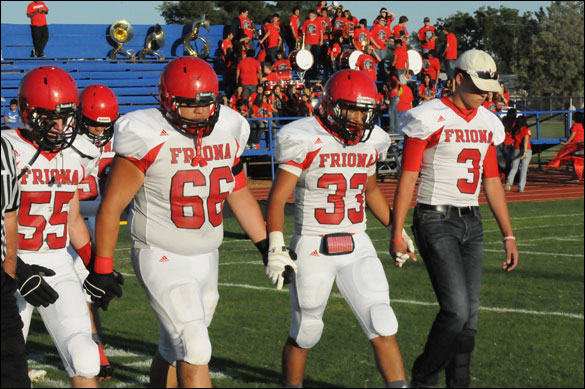 ron carr photo
The 2014 Chieftain captains take the field at Olton. They are John David Haile (55), Edgar Guerrero (66), Antonio Adame (33), and Mason Loflin (3).
I talked with some of the Dunnick workers on Monday as they started paving the south side of Hwy 60. They said it would take a couple of days to finish this side since they could not use their big smoothing machine because of the poles along the highway. They used a smaller but slower machine for smoothing and many of the workers did smoothing by hand. They said they would be moving to the north side of Hwy 60 about September 15.
*****
Received word of the passing of Durward Bell of Bovina. He lived in Clovis now but was a long time Bovina resident and farmer. Services were held his week.
*****
As posted on Facebook, Adrienne Osborn and Andrea Geries King both welcomed baby boys during the past week. Proud grandparents are Mark and Deirdre Osborn and Randy and Sarah Geries. And Mike Ortiz got married. His mom Mary works at the high school. Kimberlee Jones got married too. She is a Lubbock police officer. Her mom is Donice Jones Strickland. Kalley Preston got married a couple of weeks back and will reside in Dalhart. Her parents are Butch and Renee. Lots of good wishes to all. (more...)
Last weekend the JV and varsity Squaws played in the Denver City tournament.
The JV earned second in their pool by beating Lubbock Estacado and losing to Seminole. The varsity won their pool play with victories over Lamesa and Southwest Christian.
On Saturday the JV squared off with host Denver City. The Squaws came close in game two and actually had a good lead but Denver City came back for the win. The JVs then beat Midland Classical. The JV ladies finished the tourney with a loss to Snyder. (more...)
The Chieftains opened the season with a 23-13 win at Olton, matching their win total from last year. There were a few first game mistakes on both sides. On the opening kickoff, the Chiefs bobbled the ball but Gabriel Chico scooped it up and rambled about 80 yards down the left sideline for a touchdown but it was called back on a Chieftain holding penalty. Neither team scored in the first quarter.
In his first start, quarterback Dallin Woods carried 13 times for 70 yards and completed 6 of 15 passes for 35 yards, and scored two touchdowns. Chico was the leading rusher with 22 carries for 114 yards. Luis Trejo added 12 yards on 6 carries. (more...)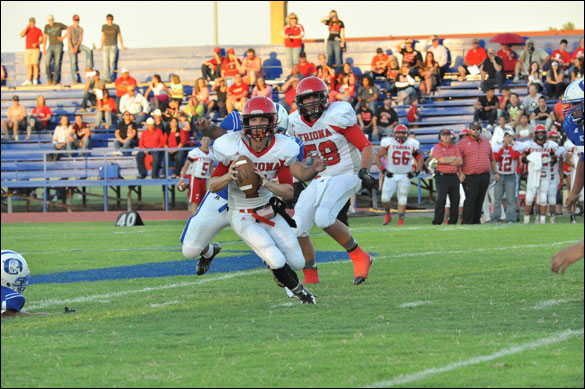 dana jameson photo
Chieftain quarterback Dallin Woods (7) escapes an Olton Mustang as teammate Brandon Berend (58) rides to the rescue. The Chiefs beat Olton 23-13. They travel to Abernathy Friday September 5.