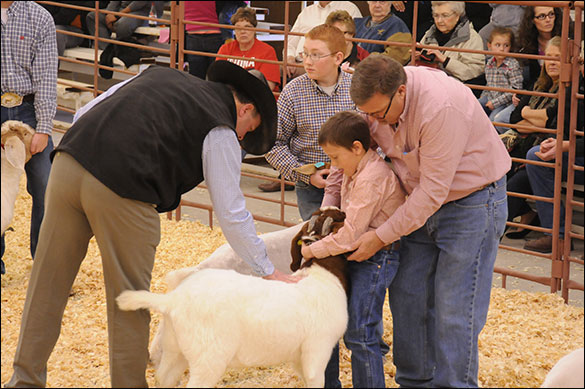 ron carr photo
Friona FFA ag instructor Tracy Blount, right, helps Stef Ally line up his lamb for judge Scotty Wright during the Friona Livestock Show held Saturday January 17 at the community center. Exhibitor Tristan Schueler is also shown. A total of 81 animals were exhibited in the local show.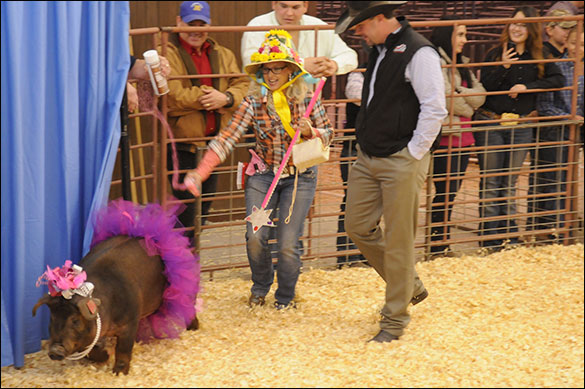 ron carr photo
There was an 'adult challenge' at the Friona Livestock Show. It cost $10 to nominate an adult to show an animal. It was all in fun and a fundraiser for the local FFA program. Erin Barnett accepted the challenge in colorful style as she tries to dazzle Judge Scotty Wright with her barrow entry not exactly in traditional stock show form. Mrs. Barnett and her pig were a crowd pleasing duo.
At Tuesday night's basketball games Tonya Lookingbill was the winner of the iPad raffle sponsored by the volleyball boosters.
*****
It took FHS senior Brandon Berend three tries but he managed to putt a golf ball across the gym floor and stop it on a mat at the other end and win $100 courtesy of AgTexas. Fans can buy a ticket for $1.00 and a chance to putt during the halftime of the boys game. A couple of years ago I bought a ticket but I didn't want to putt so I put Clint Mears Name on the ticket. They drew his name, he putted, and won $100. My luck hasn't changed much. (more...)
Hospital to take over Prairie Acres/Heritage
The Hospital District board of directors voted to proceed with plans to take over the ownership and management of Prairie Acres Nursing Home and Friona Heritage Estates assisted living facility.
Prairie Acres and Heritage Estates have always been owned by the City of Friona. For several years the city has wanted to divest itself of the two facilities. Talks have been ongoing with the hospital district to assume management and operation of the properties. (more...)
Eighty-one animals shown at Friona Stock Show
The Friona Stock Show was held Saturday, January 17 at the Friona Community Center. There were 81 animals entered in the show this year. Boys Ranch Ag Science Teacher Scotty Wright served as judge.
Winners in the Goat Show were:
Class 1: 1st Samuel Frye; 2nd Gabriel Abarca; and 3rd Anthony Abarca. (more...)