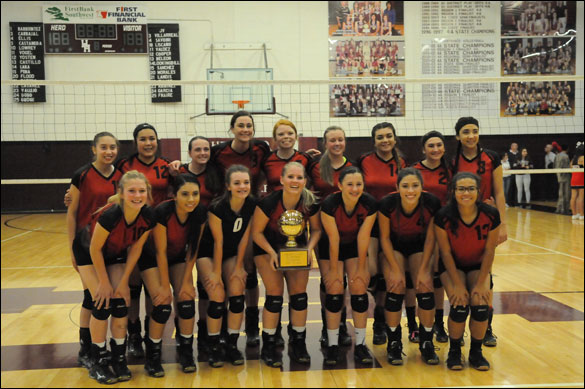 holly campbell photo
The Squaws swept the Tulia Lady Hornets 3-0 Tuesday in a bi-district match in Hereford. The Squaws travel to Seminole Saturday November 5 to challenge the lady Bucks of Alpine in the area round of the playoffs. Congratulations to the Friona Squaws on a great season with more than 30 wins for the first time in Friona volleyball history.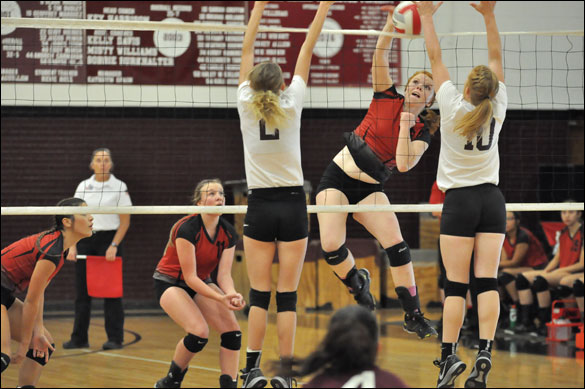 dana jameson photo
Paige Upton goes for the kill against Tulia Lady Hornets during the playoff game held in Hereford on Tuesday evening. Friona advanced to Area competition against the Alpine Lady Bucks on Saturday, November 5 in Seminole at 6 p.m.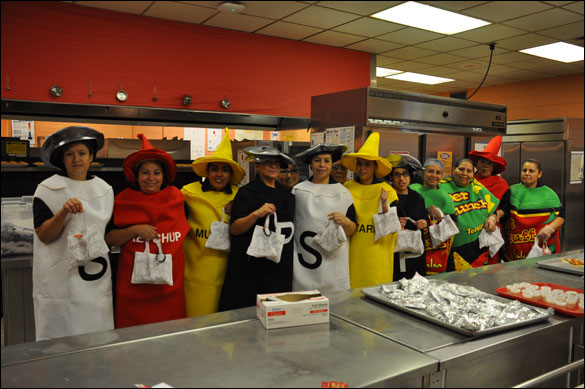 dana jameson photo
The elementary/junior high cafeteria ladies put on their salt, pepper, mustard, ketchup condiment costumes for serving the students Monday on Halloween Day. The lunches were served in the white bags the ladies are holding, which the children could use to collect Halloween goodies later in the day. Pictured, l-r, are Yudith Grado, Olivia Huerta, Dulce Hruska, Tere Vega, Laura Romero, Adriana Salas, Flora Reyes, Julia Soriano, Stephanie Hidalgo, Isabel Casas, Margarita Garcia, Ana L. Lara, and Magdelena Vega.
Most important news this week: Central Standard Time begins Sunday November 6. Turn your clocks back an hour. We get that extra hour of sleep back.
*****
Ten visitors from Argentina were in town last week. They visited Becky and Mike Riethmayer's feedlot/cattle operation. Becky said they were curious about the wind farm operation, irrigation, and cattle rations. (more...)
Squaws sweep Tulia for bi-district gold
The Squaws traveled to Hereford Tuesday to play the Tulia Lady Hornets in a bi-district match. (more...)
Community Thanksgiving Service
The Annual Community Thanksgiving Service will be held Sunday, November 20 at 6 p.m. at the Friona United Methodist Church. This service is hosted by the Friona Christian Ministries, and is always a great time of worshipping the Lord as a community and taking up an offering that is used to help people with basic needs throughout the year in our community. The community is welcome to attend.
Stowers, Lewellen win Week 9 contest
Two contestants scored 11 correct in the Week 9 football contest. The Washington Redskins-Cincinnati Bengals game ended in an overtime tie so it was counted as correct for everyone. (more...)
Grief and the holidays workshop
Often times after death loss in a family the holidays are not welcomed. Instead, one might refer to the holidays of being a time of enhanced sorrow and sadness. The phrase 'good grief' it's a holiday may be used out of frustration and ongoing grief. (more...)