From Coach Bryan Masse
The Squaws traveled to Hereford Tuesday to play the Tulia Lady Hornets in a bi-district match.
In the first set the Squaws got off to a good start and were up 15-5 before Kim DeWit went back to serve and Erica Barrera entered the game for the first time.
The ladies continued with good defense through game one and cruised to a 25-10 win. In game two the Squaws let up some and Tulia tried to rally but the girls from Friona would never let the Lady Hornets have any hope of a victory. Th Squaws finished game two with a 25-19 win.
In game three the Squaws regained focus and had a better start. The passing improved from game two and the ladies were in system more which allowed Kendall Barnett to have choices where to set the ball. The Lady Hornets tried to rally but the Squaws were too steady with their fundamentals and pulled out a 25-14 victory.
Tulia has improved since the first time we played them. They went five games with Highland Park last week. We were able to control the match with good passing from Taylor Stallings, Sabrina Barraza, Bailey Pope, and Gabbi Douglas. Mariah Trevino and Erica Barrera did a good job of keeping the ball in play without too many errors.
Good serving by Kendall Barnett, Paige Upton, Taylor Stallings, Bailey Pope, and Sabrina Barraza kept the Lady Hornets out of system.
The Squaws will travel to Seminole to face Alpine in the area championship round Saturday November 5 at 6:00 p.m. If the Squaws win they will then face the winner of Littlefield vs. Wall.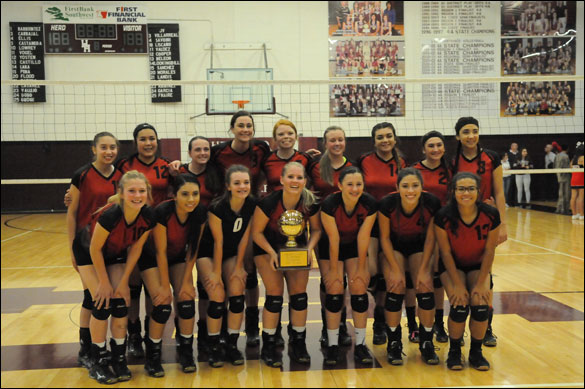 holly campbell photo
The Squaws swept the Tulia Lady Hornets 3-0 Tuesday in a bi-district match in Hereford. The Squaws travel to Seminole Saturday November 5 to challenge the lady Bucks of Alpine in the area round of the playoffs. Congratulations to the Friona Squaws on a great season with more than 30 wins for the first time in Friona volleyball history.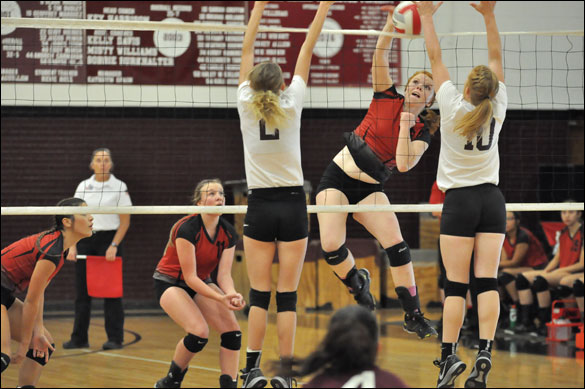 dana jameson photo
Paige Upton goes for the kill against Tulia Lady Hornets during the playoff game held in Hereford on Tuesday evening. Friona advanced to Area competition against the Alpine Lady Bucks on Saturday, November 5 in Seminole at 6 p.m.