Obituary
Velma Schlenker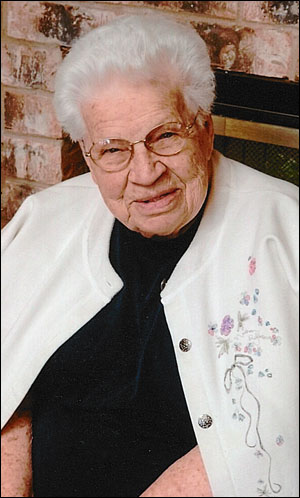 Velma Schlenker, 93, of Friona, died Wednesday, October 26, 2016, in Friona, TX. Graveside services were held at 2 p.m. Saturday, October 29 at the Friona Cemetery. Rev. Brett Hoyle, Bluebonnet Hospice Chaplain and pastor of First Baptist Church of Friona, officiated. Burial followed in the Friona Cemetery by Blackwell-Mullins Funeral Home.
Velma was born in Rhea, Texas on May 27, 1923 to Herman and Emma Gallmeier Schueler. She attended grade school in Rhea and graduated from Friona High School. After graduating, she worked at Friona State Bank. She married Carl Reeve Schlenker on December 14, 1946 at Emmanuel Lutheran Church in Rhea where they were members. They were later instrumental in establishing Redeemer Lutheran Church in Friona.
She was a member of several community organizations including the Rhea Home Demonstration Club, Lutheran Braille Workers in Lariat, Lutheran Women's Missionary League and Friona Hospital Auxiliary. She also served as a member of the Parmer County Historical Commission in 1980 when working on "Prairie Progress".
She excelled in her role as a homemaker and enjoyed sewing, crocheting, quilting and other crafting hobbies. She spent many hours creating treasures for family and friends. Her grandchildren in particular take great pride in the handmade Christmas ornaments that she made for them every year.
She was preceded in death by her parents; husband; two sisters, Dorothy Bauer and Lillian Schueler; two brothers, Gilbert Schueler and Walter Schueler; and one granddaughter, Holly Hope Sims.
Survivors include Connie Lynn Johnson and husband Joe Bob of Friona, James Noel Schlenker and wife Yuruby of Hermitage, Pennsylvania; Ira Floyd Schlenker of Friona, and Carleen Kay Sims and husband Jud of Lubbock; one brother, Herbert Schueler and wife Cecilia of Rhea; one sister-in-law, Martha Schueler of Farwell.
Surviving grandchildren include, Mindy Johnson of Nashville, Tennessee; Abbey Cramer and husband Joel of McKinney; Joni Graham and husband Paul of Newell, South Dakota; Naruby Schlenker of Austin; Oscar Schlenker of Caracas, Venezuela; James Jonathan Schlenker of Hermitage, Pennsylvania; John Schlenker of Friona; Lori Keyes and husband Nate of Hereford; Marcy Mayberry and husband Kirk of Lubbock; Casey Sims of Lubbock.
Her nine precious great-grandchildren were her pride and joy: Lillian and Amelia Cramer, Laney Graham, Ashley Dilly, Austin and Rebecca Schlenker, Karley Keyes, Miles and Molly Mayberry.
The family requests memorials be made to Prairie Acres Nursing Home, 201 E 15th, Friona, TX, 79035.