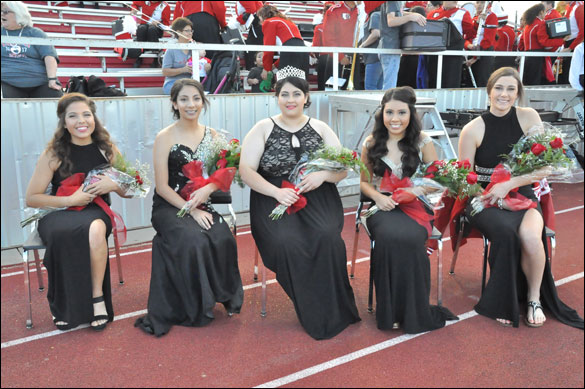 dana jameson photo
The 2016 Homecoming Queen is Ashley Soltero. The homecoming queen court, l-r, Briana Alvarado, Kimberly Lozoya, Ashley Soltero, Sabrina Barraza, Kim DeWit.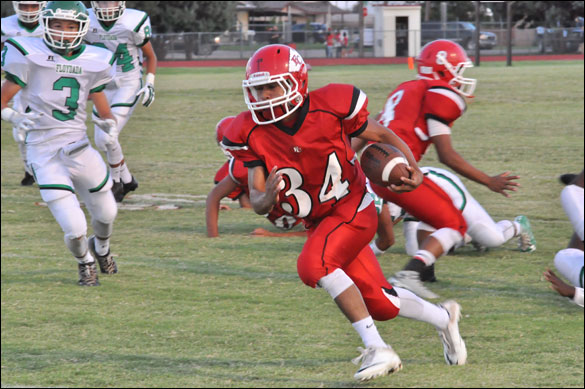 dana jameson photo
Luis Trejo (34) escapes a couple of Floydada tacklers and picks up yardage. Trejo rushed 12 times for 102 yards in the game. The Chieftains will host Dalhart Friday September 23 and have an open date Friday September 30 before district begins November 7 vs. River Road here.
What great weather we had for the homecoming game and Saturday's Maize Days parade and city park activities. Bobby Tyler won the Fire Department Polaris 4-wheeler/trailer rig. The band boosters are still selling tickets to give away a touch screen laptop. They will be selling tickets at the football game Friday night and the drawing will be held during halftime of the October 14 game vs. Littlefield. Tickets are $1.00 each.
The Noon Lions are still selling tickets to win a 45.70 rifle and a .22 pistol. Tickets are $10 and that drawing will be at the Noon Lions meeting December 15. Tickets are available from any Lion or go by the Andy Montana Insurance office. (more...)
Chieftains thump Floydada 27-14
The Chieftains got off to a fast start for the homecoming crowd Friday night with three Chiefs gaining over 100 yards in the game.
Leading rusher was sophomore quarterback Marco Monreal with 112 yards on 15 carries. Sergio Flores picked up 110 yards on 19 carries and two touchdowns. Teammate Julius Orozco also had two touchdowns on five carries and 65 yards. (more...)