Obituary
Guadalupe Alejandro Casarez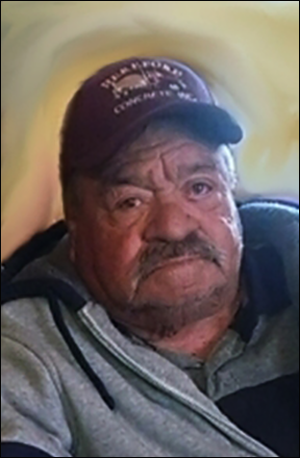 Guadalupe Alejandro Casarez, 70, of Friona, died Friday, October 6, 2017 in Amarillo. Mass of Christian Burial services were held Tuesday, October 10, 2017 at St. Teresa's Catholic Church with Father Henry Wilson Rodriguez of Hereford as Celebrant. Burial followed in the Friona Cemetery by Blackwell-Mullins Funeral Home of Friona.
Guadalupe was born December 12, 1946 in Harlingen, Texas to Ciro and Estela Alejandro Casarez. He was a truck driver, loved to dance, loved his family and was a very happy person always talking to people. He was a member of St. Teresa's Catholic Church in Friona.
He is preceded in death by his parents.
Survivors include his wife Ramona of Friona; two sons, Daniel Trevino of Friona and Lupe Casarez of Hereford; five daughters, Wanda Casarez of Hereford, Linda Casarez, Patricia Casarez and Bobbie Ann Casarez all of Amarillo, and Molly Ann Reyes of Odessa; three brothers, Ciro Casarez Jr., Mike Casarez and David Casarez, all of Hereford; four sisters, Elva Castillo, Olga Tijerina and Sylvia Cardenas all of Hereford and Leticia Alejandro of Phoenix, AZ; 28 grandchildren; and four great-grandchildren.
You may sign the online register book at www.blackwellmullins.com.