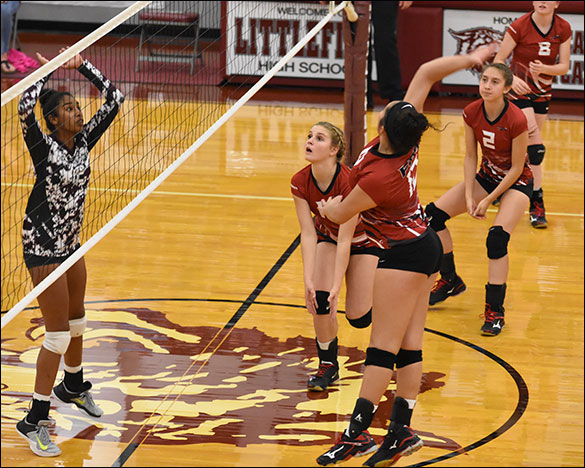 dana jameson photo
The Friona High School Varsity Squaws defeated the Littlefield Lady Cats to clinch second place in District 3-A Tuesday evening in Little field. The Squaws crushed the Lady Cats in three straight sets. Mariah Trevino, #12, goes in for the kill after Carly Drake, #10, sets it for her. Vivianna Rivera, #2, and Emma Rector, #8 are ready to back them up.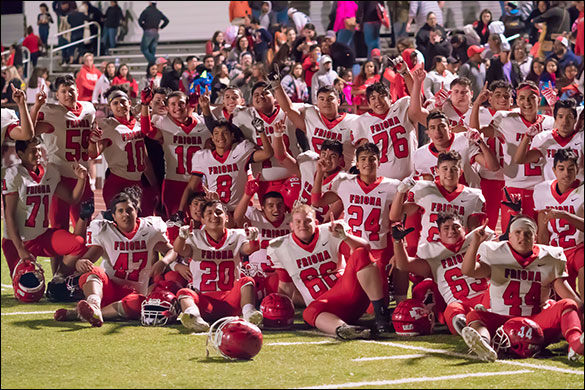 eric gonzales photo
The Friona Chieftains were triumphant last Friday evening against the Littlefield Wildcats with a final score of 42-28. The win brings them to a 7-0 record for the 2017 season.
The Friona High School band will host a spaghetti dinner this Friday, October 27 from 5-7:30 p.m. before the Pink Out Game when the Chiefs will meet the Muleshoe Mules. For $7 per person, diners will enjoy delicious spaghetti with meat sauce, salad, green beans, bread and dessert. The meal will be served at the FHS cafeteria. The band is raising money for their trip at the end of the school year. (more...)
Little goblins and ghouls (and their parents) are invited the Trunk or Treat on Tuesday, October 31 from 6:30-7:30 p.m. on Euclid Street between the Friona Primary and Elementary Schools. This event is hosted by the Friona Chamber of Commerce, the Parmer County Sheriff's Office and the Friona Police Department. (more...)

Caregiver Coffee Break Nov. 3

Are you a family caregiver or caregiver? There is a free community service available to you offered on the first Friday of every month. (more...)
St. Ann's Annual Turkey Dinner

St. Ann's Catholic Church of Bovina will host their annual Turkey Dinner on Sunday, November 5 from 11:30 a.m. to 2 p.m. in the St. Ann's Parish Hall on 3rd Street in Bovina. They will be serving turkey and dressing, creamed potatoes and gravy, green beans, homemade bread, cranberry sauce, relish plate, desserts, tea and coffee. Donations will be $12 for adults and $6 for children under 6. Take out plates will be available at no additional charge. A quilt made by St. Ann's Society will be raffled off at the dinner.

Thespians to present "Little Mermaid"

The Friona High School Thespians will present Disney's "The Little Mermaid, Jr." on Saturday, November 18 at 7 p.m. and Sunday, November 19 at 4 p.m. at the FHS Auditorium. Tickets are $4 for adults and $2 for students and children.
The Friona Blood Drive is going for a record-breaking 80 donations at the Thursday, November 9, 2017 blood drive at the Calvary Baptist Church Fellowship Hall at 1500 Cleveland. The blood drive begins at noon and runs until 7 p.m. (more...)