Obituary
Adelmira Rodriguez Viss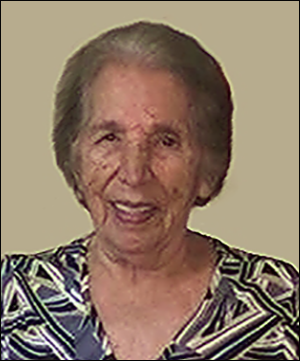 Celsa Gonzalez, 83, of Friona, died Wednesday, October 25, 2017 in Friona. Celebration of Life services were held Saturday, October 28, 2017 at Templo Bautista Damasco Church in Friona with Rev. Ruben Rivera, pastor, officiating. Burial followed in the Friona Cemetery under the direction of Blackwell-Mullins Funeral Home of Friona.
Celsa was born July 28, 1934 in Mexico to Gavino and Theofelia Lopez Chavez. She was a member of and very active in Templo Bautista Damasco. She loved working in her garden of plants, vegetables, fruits and most of all her precious flowers. She was a loving wife, mother, grandmother and great-grandmother.
She is preceded in death by her parents; husband, Rafael Gonzalez; and a son-in-law-Mariano Rodriguez.
Survivors include one daughter, Maria Rodriguez of Friona; four grandchildren, Celsa Rodriguez of Friona, Michel Gomez and husband Pedro of Amarillo, Jessica Piña and husband Carlos of Friona, Rachel Medina and husband Casimiro of Friona; 10 great-grandchildren, Jasmine, Mariana, Kiana, Viviana, Moises, Briana, Miranda, JayLeigh, Jacob, and Jessa.
You may send condolences and sign the online register book at www.blackwellmullins.com.