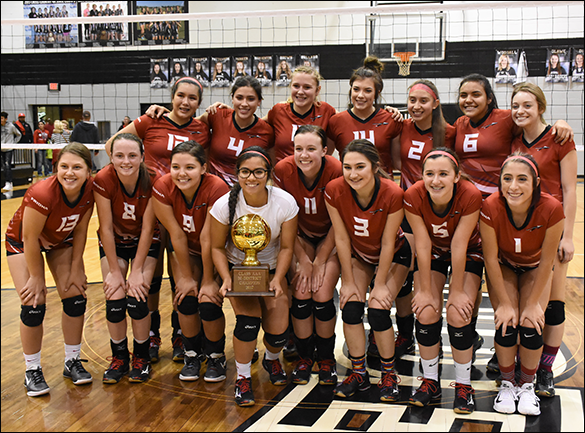 dana jameson photo
The FHS Varsity Squaws were crowned Bi-District Champs after defeating the Childress Lady Bobcats Tueday evening at Randall High School. Pictured are, back row, l-r, Mariah Trevino, Erica Barrera, Carly Drake, M'Kenzie Hurst, Vivianna Rivera, Jaci Trevino, Graci Stallings; front row, l-r, Maddie Sharrock, Emma Rector, Amelia Sandoval, Josselyn Castillo, Bailey Pope, Megan Stone, Gabbi Douglas, and Rickie Castillo. The Squaws travel to Seminole to take on the Alpine Lady Bucks this Saturday at 2 p.m.
Squaws advance to Area with win over Childress
The Friona Squaws have had a successful season and continue to add to the win column on their way to Area competition.
Match update:
On Tuesday, October 24, the Squaws Varsity and Junior Varsity volleyball teams travelled to Littlefield to take on the Lady Cats.
The Junior Varsity started with a sweep of the Lady Cats and secured the District championship once again. The JVers, coached by Darrel Ray, have either won or shared the district crown in the last eight years. Congratulations to the girls and Coach Ray on another 20-plus winning record.
The Varsity locked up 2nd place in the district with a 25-10, 25-14, 25-17 win over the Lady Cats. The Squaws finished the regular season with a record of 22-16.
Warm-up game
The Varsity Squaws traveled to River Road on Saturday, October 28 for a warm-up game with 4-A opponent Dalhart.
In a hard fought battle, the Squaws defeated Dalhart in 5 games, 25-19, 17-25, 25-17, 20-25, and 15-11. Even though it was a warm-up match the Squaws played hard and came out with a win.
Bi-District Match
The Squaws traveled to Randall High School to take on the Childress Lady Bobcats on Tuesday, October 31, Halloween night. Childress had been ranked in the top 25 late in the season and came into the match confident.
The Squaws, after a slow start, relaxed and got into a rhythm, which resulted in a three game sweep of Childress, 25-14, 25-19-25-14.
Good serving and passing set the tone for the Squaws who are 24-16 for the season.
Statistics:
Digs: Castillo, 26; Stone, 21; Douglas, 13; Pope, 13; Rector, 3; Drake, 1; and M. Trevino, 1.
Assists: Rector, 20.
Kills: Barrera, 6; Pope, 6; Drake, 4; M. Trevino, 3; and Sandoval, 1.
Blocks: Barrera, 6; Drake, 3; M. Trevino, 2; and Sandoval, 1.
The Squaws will travel to Seminole on Saturday, November 4 to take on the Alpine Lady Bucks in Area competition at 2 p.m.
Mules edge Chieftains 54-48
The rivalry between Friona Chieftains and Muleshoe Mule continued last Friday evening at Chieftain Field as the Mules came to Friona to flex their muscles. However, the Chieftains were ready for the Mules and led them through four tough fought quarters until the final touchdown by the Mules gave them the lead for the first time all evening. The Mules walked away with the narrow win of 54-48.
Sergio Flores ran for 114 yards in 22 carries and scored two touchdowns. Marco Maldonado ran for 75 yards in five carries for two touchdowns as well. Julius Orozco ran in one touchdown and carried ten times for 72 yards. Jonathon Hernandez had seven receptions for 111 yards and scored one touchdown.
Marco Monreal had ten carries for 43 yards while Rodrigo Munoz had two carries for 22 yards. The total rushing for the Chiefs was 326 yards in 49 carries and five touchdowns.
Rocky Barrios had one reception for six yards and Maldonado had one reception for 14 yards. Total receiving against the Mules was 131 yards for nine receptions and on touchdown.
Monreal completed 9 of 18 passes for 131 yards and one touchdown.
Total offense against the Mules was 457 yards in 67 plays. The Chieftains had six penalties for and average of 11 yards per penalty. The Chieftains had 20 first downs against the Mules.
Jonathon Hernandez punted once for 34 yards and Maldonado completed six of seven extra point attempts.
The 7-1 Chieftains travel to Shallowater Friday, November 3 to meet the 7-1 Mustangs at 7:30 p.m. at Mustang Field.
Chieftain/Squaw Booster Club News
Thursday, November 9--The Booster club would like to show our support and appreciation for all Jr. High athletes by having a pizza party. This event will take place after the 8th grade football game. All Jr. High athletes and their parents are invited to attend.
Friday, November 10--The Booster Club will be having a tailgate to congratulate the football, volleyball' and cross country teams. In addition, we would like to thank our community for all of its support. The tailgate starts at 5:30 p.m. We will be serving sausage wraps, chips, and a drink for donations only.
Friday, November 10--Senior Night for football, cross country, cheerleading, and band will begin at 6:30 p.m.