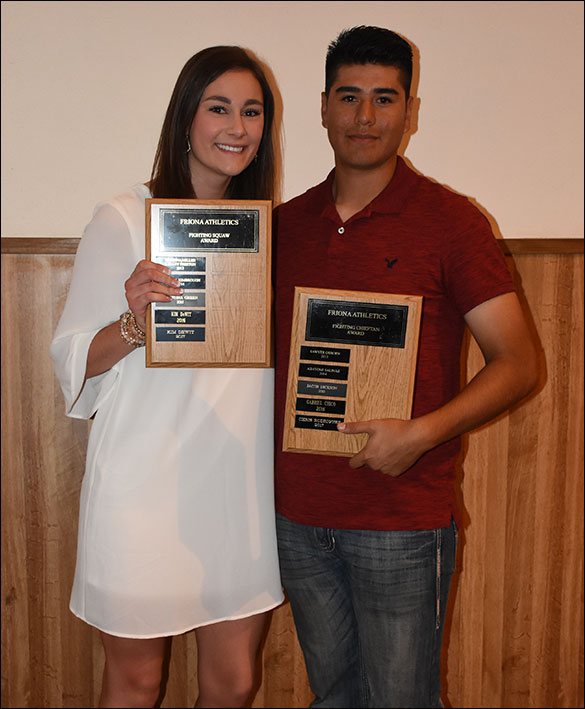 dana jameson photos
Luis Trejo and Paige Upton, above, were honored with the 2017 Fighting Heart award at the annual FHS All-Sports Banquet on Tuesday evening. Kim DeWit and Christopher Rodriguez, below, were named Fighting Squaw and Chieftain for 2017.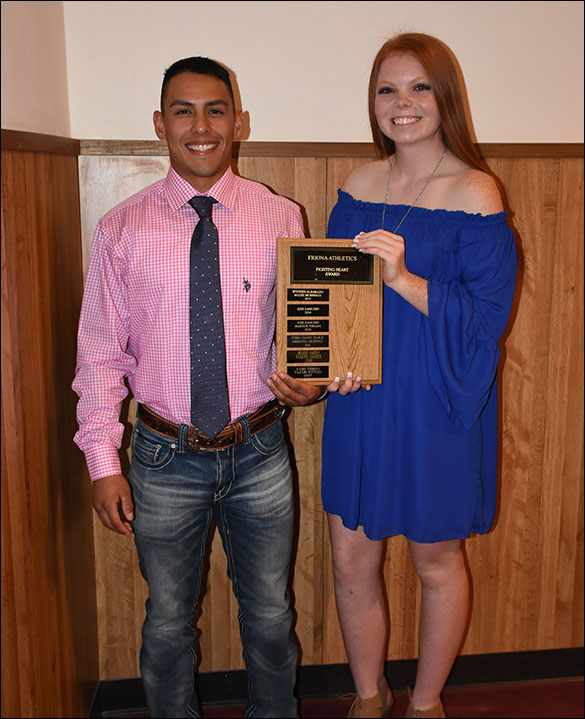 Happy Anniversary to Juan & Alma Rivera and Raul & Terry Braillif. They all celebrated anniversaries on Monday, May 8. The Rivera's are celebrating 18 years and the Braillif's are celebrating 35 years. Congratulations! (more...)
Stallings, Barnett, Garcia named 2017 top graduates
The seniors of 2017 were honored Sunday, May 7 at the annual Senior Awards. The top graduates were announced, as were the scholarships amounting to approximately $60,000. Del Lewis was honored as the newest initiate into the Hall of Distinguished Graduates. Lewis left the seniors with these words, "Find your passion and follow it!" (more...)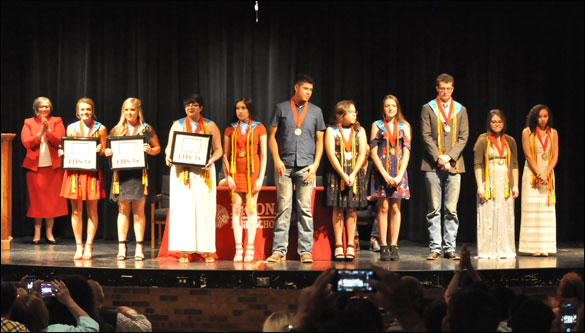 2017 FHS Top Ten
Schueler, Lewellen elected to Trustees
There were 670 votes cast in the recent Friona Independent School District Board of Trustees election. Elected to the board were Wade Schueler with 238 votes and Jamie Lewellen with 209 votes. Corbin Riethmayer received 191 votes and Maria Garcia had 32 votes.

Commissioners double subsidies to county EMS
The Parmer County Commissioners Court met in regular session on Monday, May 8 in Farwell at the County Courthouse.
The first order of business was to double the subsidies to the county Emergency Medical Services. Currently each month Friona EMS receives $800, Bovina EMS $400, Farwell EMS $400 and Lazbuddie $400. As of January 2018, these amounts will double pending a budget meeting and any unforeseen circumstances. (more...)

Mighty Writers students present program to Trustees
The FISD Board of Trustees met in regular session on Monday, May 8 at the FISD Administration Building will all members in attendance. (more...)

Council considers diverse agenda
The Friona City Council met in regular session on Monday, May 8 in the Council Chambers at 619 Main to discuss a number of agenda items. (more...)