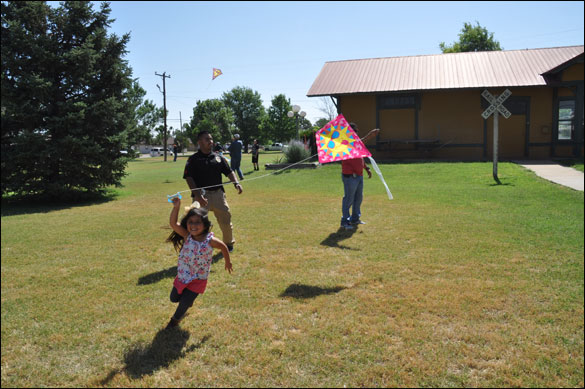 dana jameson photo
Last Thursday was the perfect day for flying a kite. The wind was mild and the temperatures were just right for Sophia San Miguel to hit the City Park with her dad, Friona Police Department Sgt. Jesus San Miguel. Sophia, who is a Pre-Kindergartner, was having a good time spending time with her dad. Hidden behind Sophia's kite is FPD Officer Andrew Aguirre. The officers were in the park to help with summer school activities and spend time with their children.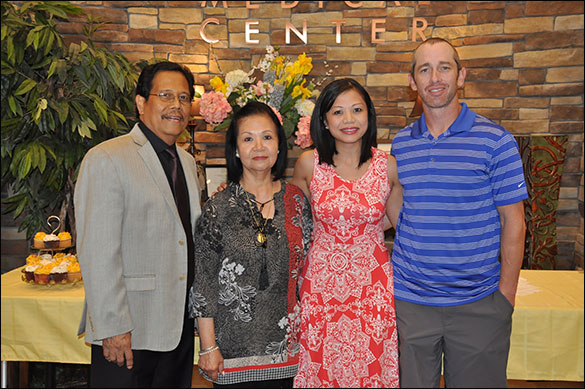 dana jameson photo
Parmer Medical Center bid goodbye to Lynette Jubay last Thursday at a farewell reception. The community turned out to wish her and her family well. Pictured are, l-r, Dr. Felipe Jubay, Dita Jubay, Lynette and her husband Eddie Smith.

Happy Anniversary to Bryan and Allison Johnston. They celebrated 35 years together on Monday, June 19.
Edward and Joann Castillo will be celebrating 34 years of wedded bliss on July 2. Happy Anniversary Edward and Joann. (more...)
Fireworks, Cheeseburgers and Kidz
The Friona Chamber of Commerce & Agriculture has released details for the upcoming July 4th, 12th Annual Cheeseburger Festival and 2nd Annual Kidz Building Camp. (more...)

BFF Literacy Event June 27
The BFF (Books, Family & Fun) Literacy group will be at the Reeve Lake covered picnic area on Tuesday, June 27 from 6-6:45 p.m. to share stories, games and activities with local children, their parents and/or guardians. This is a chance to enjoy literacy and fun with your child. (more...)
Prairie Acres will host a Health & Wellness Fair on Wednesday, June 28 from 2-4 p.m. They will be offering free blood pressure testing, glucose testing, ear examinations, and Medicaid Assistance. They will also be serving snacks during the Health Fair. For further information contact Elizabeth Romero at (806) 250-3922.